Throughout the centuries, Art has provided us with the most comprehensive and intricate vision of our human psyche and history. We look at ourselves either with open eyes or closed eyes, aiming to tell our story, evolving between past and future, remaining true to ourselves and bringing to the light a circular story as a timeless travel. In a complex compositional process, Humanity writes its modern artistic symphony, through an unintentional and continuous deconstruction and restoration of the subconscious. Stirring the symbology of human history, retracing the rooms of memory and opening new doors on the contemporary feeling.
With this week's Cabinet of Curiosities we went through a fascinating and intriguing journey throughout time. Explore our carefully chosen selection of contemporary artworks related to former classic and modern masterpieces and find out how themes and motifs are re-interpreted by these renowned artists, finding new and refreshing expressions.
The most successful and cultured artists of the contemporary have and continue to look at the past as a source of inspiration and create a progressive continuum of our lives. The more skilled and educated an artist is the more historical references are present in their works. Most of the artist we showcase and represent employ repetitive historical visual codes that recall ancient but at the same time contemporary traditions. Their style is often determined by genre: some transport ancient myths into a contemporary world while others take inspiration from classical paintings in order to create new original pieces for their own time period.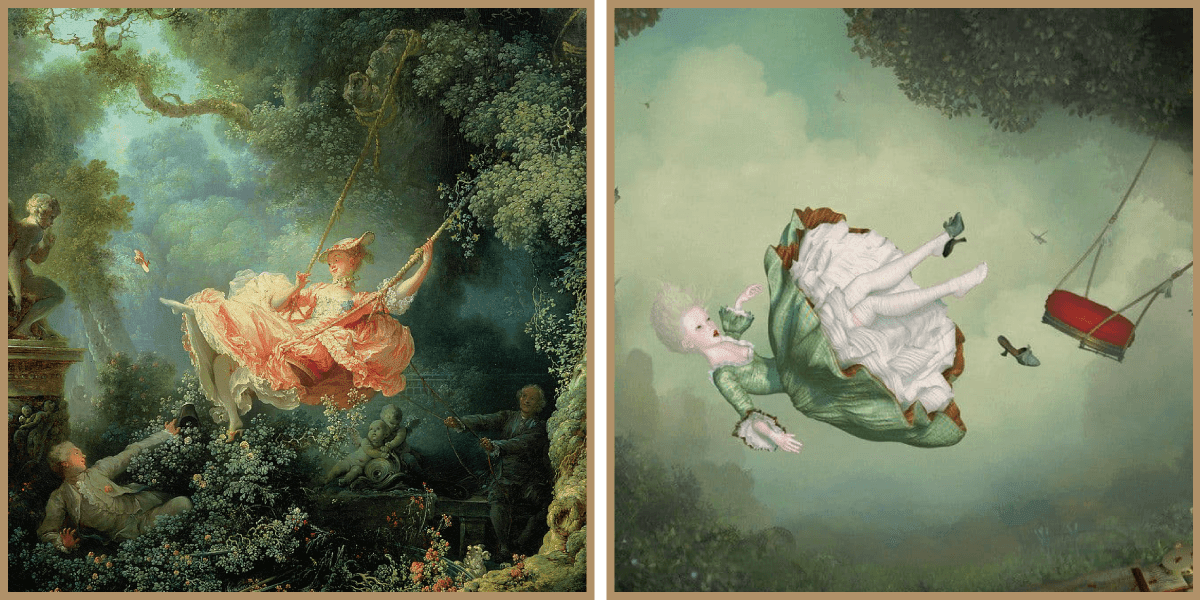 [The Swing, Jean Honore' Fragonard vs Calamity, Ray Caesar]
It is captivating to discover in their canvases these references from the past which serve as witnesses of progress and evolution, but also how the history of human feeling repeats itself. Historical elements that narrate the story of humankind are re-proposed and adapted to new eras while maintaining the timeless emotions of our souls and revealing the emotional and mystical cycles of humankind. The well-known works of art from the past are reincarnated in these wonderful new pieces and are carefully rewoven into enthralling new creations.
[Cycle, Escher vs Amandine Urruty]