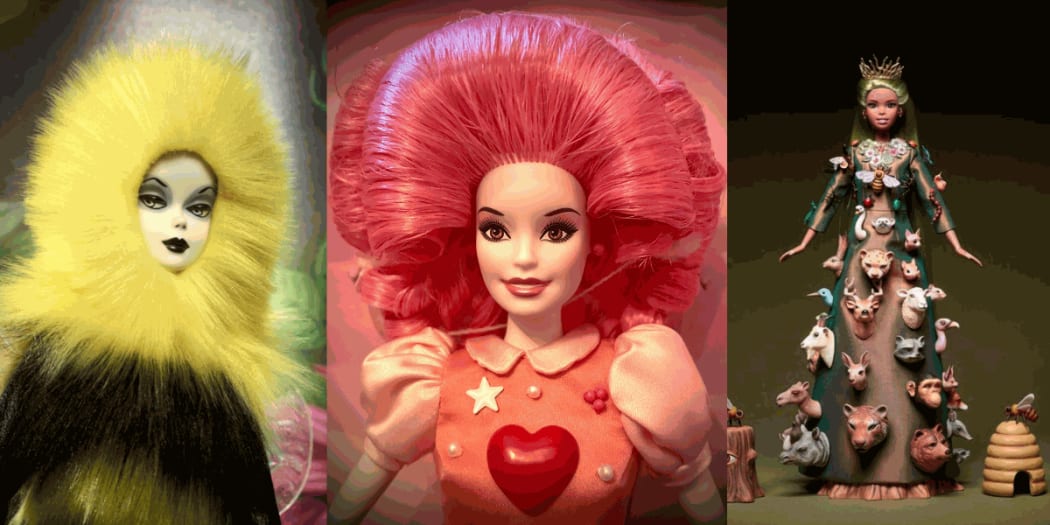 Mark Ryden is undoubtedly an unprecedented artist who, from the beginning of his career, has made us dream and has seduced us with his works characterized by bright palettes and stunning technique.
His giant canvases scattered with alchemical symbols and icons of pop culture, cryptic and at the same time revealing the soul of contemporary society, become the protagonists of an exhibition event chosen by the Artist and his Galleries: Kasmin NY and Michael Kohn LA, to close the year 2022 in style. An exceptional collaboration with Mattel Creation and the legendary Barbie.
The reimagined and signed Mark Ryden Barbies are born. These dolls, painted on canvas, sculpted and then produced in limited editions, are true works of art, cared for in the smallest details in the image and likeness of the genius mind of the Artist.
Barbie, a female pop culture icon, is painted again by Ryden, who already in 2000 had cited her in his famous Saint Barbie. This time, especially in a portrait on commission, the icon is presented in Los Angeles at the "Pink Pop" exhibition, coinciding with the Barbie movie release directed by Greta Gerwig. The cast, which includes Margot Robbie, Emma Mackey and Ryan Gosling, has led the movie to viral success. And just as so, even these irresistible limited editions of Ryden have sold out in less than a second from the official launch.
We are now wondering: at what prices can these unique dolls be sold in auction houses?
While our hands do not dare to open their boxes which are also covered with details and uniqueness, we stop to observe, in particular, the 'Pink Pop Barbie Doll'. The doll captures the gaze with its bright pink and the various accessories accompanying it: a snow yak, a meat bag and a vase of flowers.
The dress is a triumph of details, ranging from flowers, to hearts and stars, covered with icing and apparently edible.
Pink, Mark Ryden's distinctive sign and favourite colour, is the point of union with Barbie. The Artist loves pink, as he himself says, for its power to emanate peace and positivity. That is why we see this Barbie as his most iconic.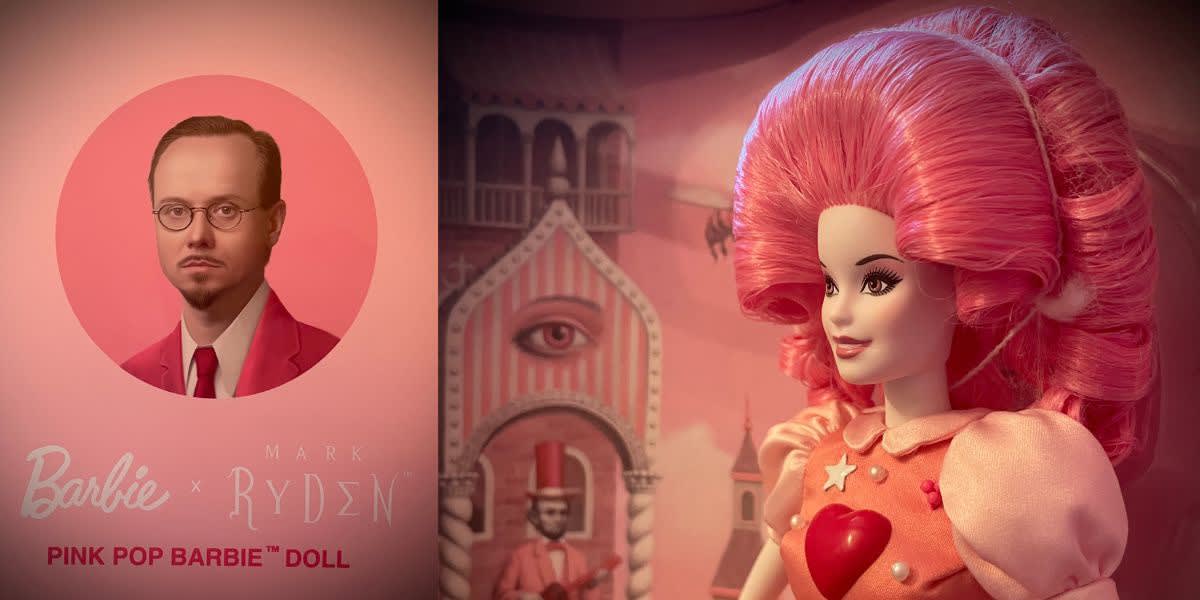 The choice to create the Barbie Bee is more than profound, and the Bee is, in fact, the symbol always used by the Artist to remind his commitment to ecology. The Bee Barbie stands out on a flowery background, and presents itself to us with two small shiny wings, high heels and wrapped in flashy yellow and black fur.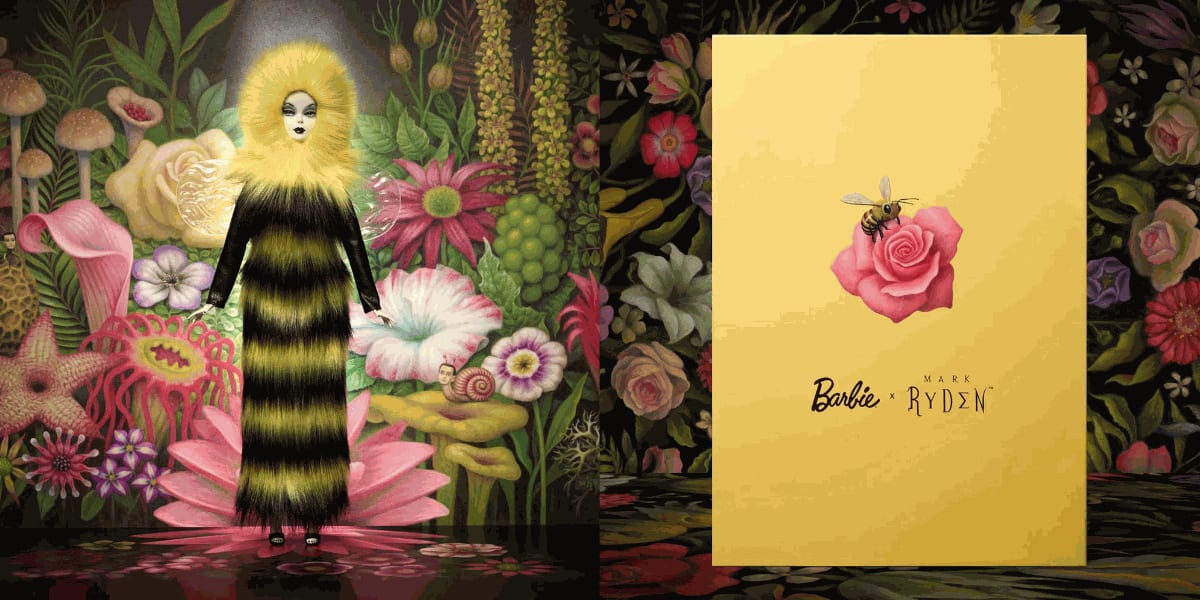 Since the beginning of his career, Ryden has represented unmistakable female figures, characterized by large eyes and surrounded by a strong nostalgic atmosphere, in a universe reminiscent of childhood.
We also see it in his earlier works, such as in 'Incarnation', a striking oil on board from 2009, in which the female figure, in an elegant and weightless pose, is wearing a dress made of meat.
The juxtaposition of different characters in his works, such as the crudeness of the unusual dress and the elegance and sweetness of the figure, also return in 'Anatomy', a beautiful oil on canvas from 2014, and the homonymous porcelain sculpture of the following year.
In 'Anatomy', the protagonist is a melancholic and beautiful blonde girl whose body is torn and whose dress is nothing but human anatomy.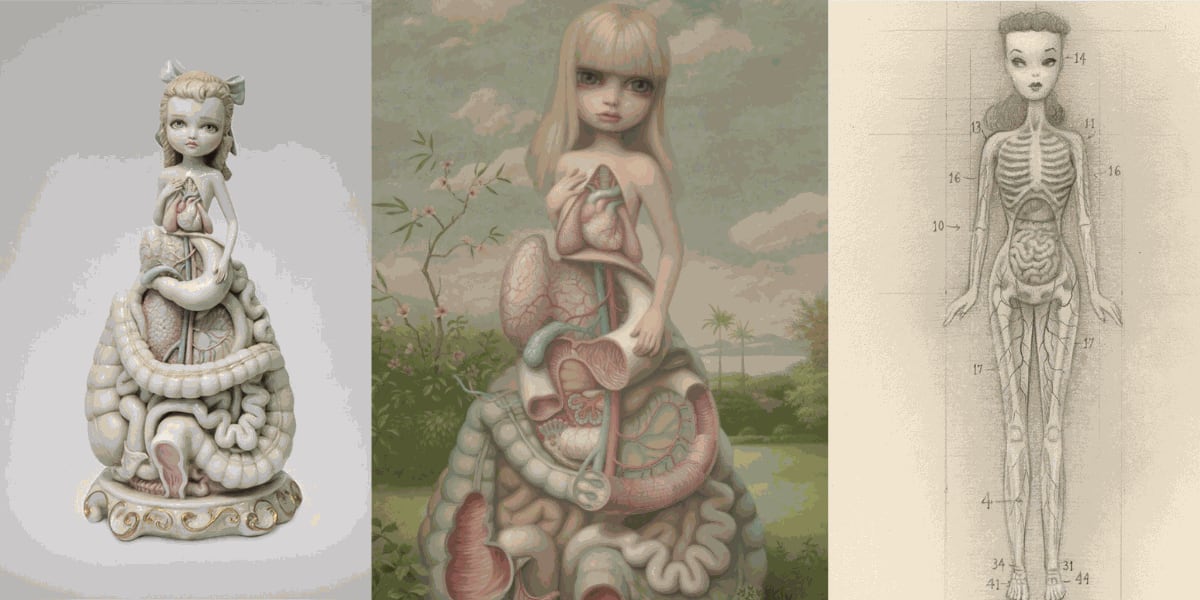 In the 'Visible Barbie', pencil on paper from 2021, this reference is again to our physical "interiority" and the transience of life. A component of this creates a red thread throughout his work, arriving today at his Barbies and offering a sweet and bitter reflection on the values of our society.
The iconic Mark Ryden, who always uses different media for his work, never ceases to amaze us and produce works of art of the highest level and great interest, immersing us, as always, in his suspended and timeless atmospheres.