Joe Sorren was born in 1970 in Chicago and he grew up in Flagstaff, Arizona. He began painting in 1989 and, in 1993, he received a Bachelor of Fine Arts from Northern Arizona University and worked as creative director for Transworld Snowboarding Magazine.
After a long-term residency in New York City, Sorren spent a few years in Florence and in Barcelona, where he had the chance to absorb both Italian and Spanish art vibes.
The artist's poetic imagery, his fading landscapes, peculiar brushstrokes and unique codes, make him one of the leading figures on the scene of the American cultural avant-garde of Pop Surrealism of which he is a prime mover.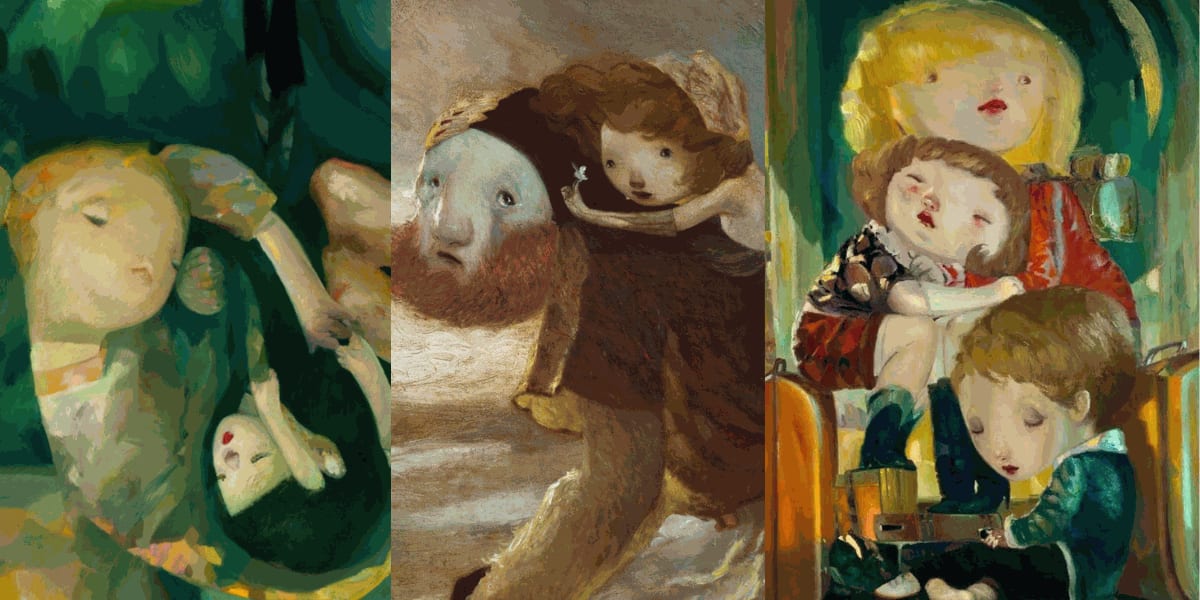 Contemporary master of "emotion lighting", Sorren paints with muted, but luminous, palette and golden-like oil colours that make the viewer feel transported into the realm of the canvas, a warm wool of soft textures. Sorren's brushstrokes are like sunbeams that penetrate the foggy atmosphere of an ever-spring realm. His style is hyper-contemporary and hyper-impressionistic at the same time, a feature that characterises his signature touch of colour and makes his art widely recognisable worldwide.
Sorren creates layer upon layer of texture with oil paint upon his canvas until creatures and sceneries somehow captured by extreme emotion emerge with impressionistic brushstrokes, as if from the deepest meanderings of the Artist's imagination. Sorren's inspiration for his paintings comes from human behaviours, classic moments that he turns into romantic, everlasting fractions of time. "Since painting is a physical record of movement in time", Sorren affirms, "brushstrokes are not unlike the grooves on a vinyl record-capturing not just the colour and shape of a stroke, but the timbre; the energy and emotion experienced at the time it was painted".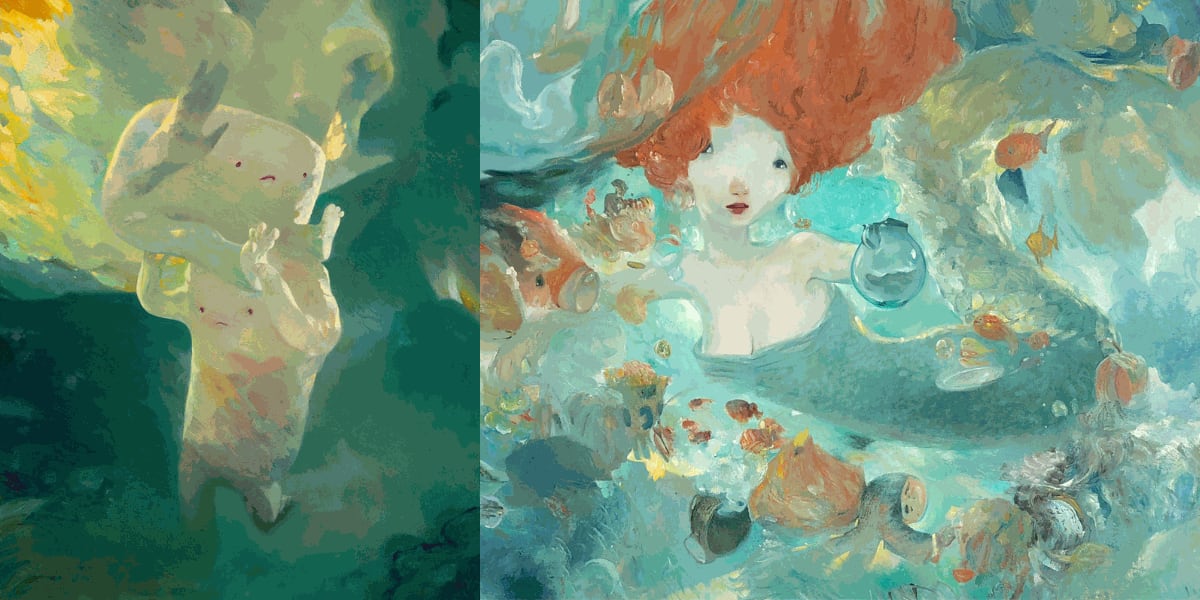 Sorren allows his artworks to evolve sensitivity naturally and subconsciously. The process of study and realisation may take even years and each new layer of paint, reflects the subject's spiritual metamorphosis into new beings. A figure may develop into a hill or in a landscape; or perhaps a tree may morph into a human being. Mysterious creatures enclosed in their inaccessible ocean and absorbed into their simultaneously melancholic and joyful state, populate Joe Sorren's large size paintings, which examine the wonders of nature and of the human spirit.
Always playing with new forms and palette, Sorren highlights the tender faces and gestures of his inimitable figures and generates his unique, living fairytales. By recording feelings of joy, he creates something like a sweet symphony coming out of our ordinary moments, which ultimately realises an idealistic freeze-frame belonging to modern life. Sorren's emotional subjects are remarkably moving and able to step us back into the memorable and timeless serenity of childhood.
"One of the most interesting things about riding subways and trains, is to witness the subtle (and sometimes not-so-subtle) interactions that occur between these temporal, random gathering of humans. I wanted to explore this sense of story; this connection however fleeting; this poetry in motion. "
JOE SORREN
After repeated sold-out successes and numerous requests from private collectors, you have been out of the scene since 2017, making the counter-trend decision of not being on social media. What has happened in your life during these years and how has Joe Sorren's art evolved today?
While I was traveling around these past years, meeting such wonderful people and those experiences; I found that my scope for narrative has grown; finding these subtle moments worth exploring everywhere I seem to look.
In your past and recent works, the light and material of painting and color compete for the role of protagonists, revealing a strong impulse towards impressionism. Does this reflect your instinctive painterly nature in constant dialogue with the soul of the creation itself? Which of the two hemispheres of the brain comes into play when you paint, and who ultimately decides what to convey, you or the soul of the work itself?
For me, it is definitely the seeking of the soul of the work;
By not having a sketch or such to start, the work evolves organically that then more often than not, surprises me with the directions it takes. It's like a dialog; Discovering a faint narrative; some compositional elements that then suggest a direction to go. By working this way, the work feels alive; more discovery and less rendering of pre-planned ideas.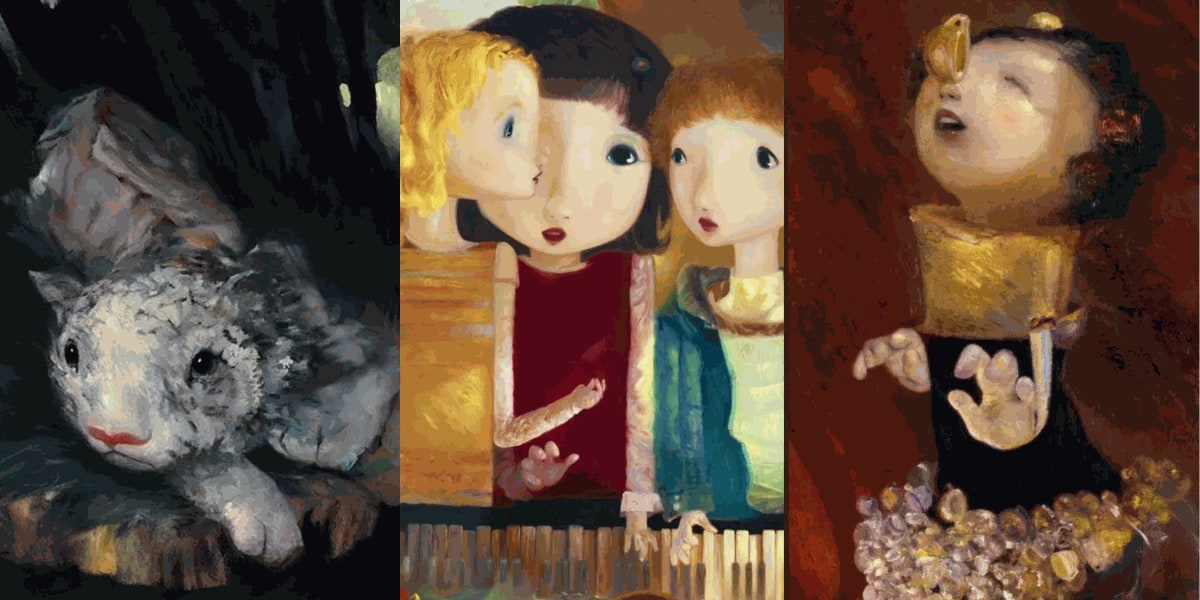 You are returning with new works that will be presented at Art Taipei in October for a debut in Asia. What themes and colors will you dedicate to the Asian audience and why?
I am so excited for this opportunity to show in Taipei. The work that has been forming for the exhibition is finding themes of homecoming and creating a world worth coming home to.
In what way does your painting reflect the era we are living in, and what message do you want to leave to those who will look at your paintings in a hundred years? What do you want people to remember about you and us the most?
If we can sometimes remember that it is often better to be kind than right; I think we will get on through these days of corruption and lies, because I believe, in the end beauty and truth win.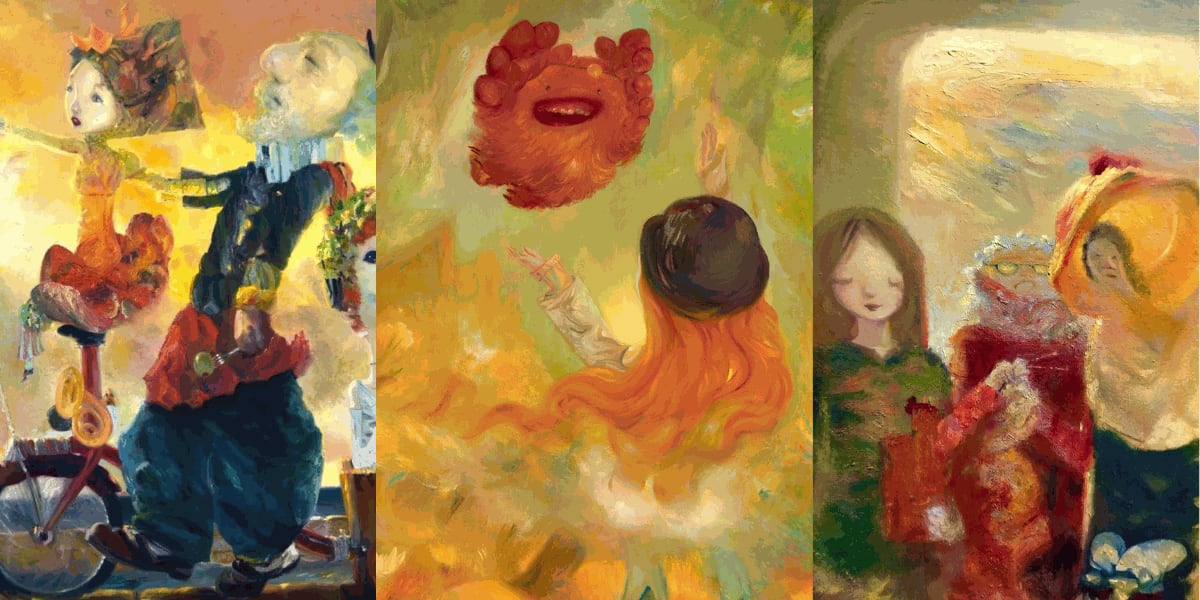 Many of your paintings feature a sense of whimsy and playfulness. Do you think that humor and playfulness have a place in contemporary art, and why?
I once read an interview of jack Kerouac in which he stated that the only two things that matter; that can hold all the values of life worth having; is Love and Ridiculousness, in equal measure. How could that not infuse my art?
What do you think of the current contemporary art market, and which artists do you follow?
I have always tried my best to not get tangled in it all; rather to try and remain clear eyed; honoring my own voice and just to focus on the making of painting.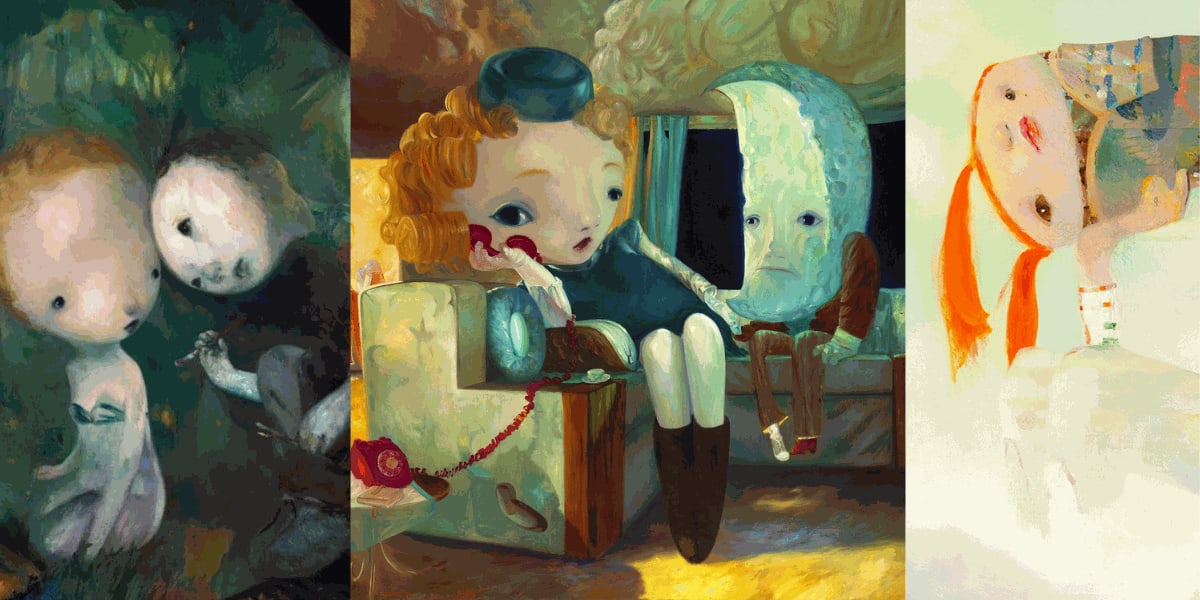 Which artists from the past do you find still reflect contemporary sentiment?
I keep finding myself enthralled in the mastery of Sargeant ,Degas, Rockwell and of course, the bravest of them all, van Gogh!
In a past interview you have mentioned that your artistic process involves a lot of experimentation and improvisation. How do you know when a piece is "finished," and when do you feel satisfied with the final product?
I learned over the years a work needs to just be out of site, to disconnect from the making of it and moving into observer…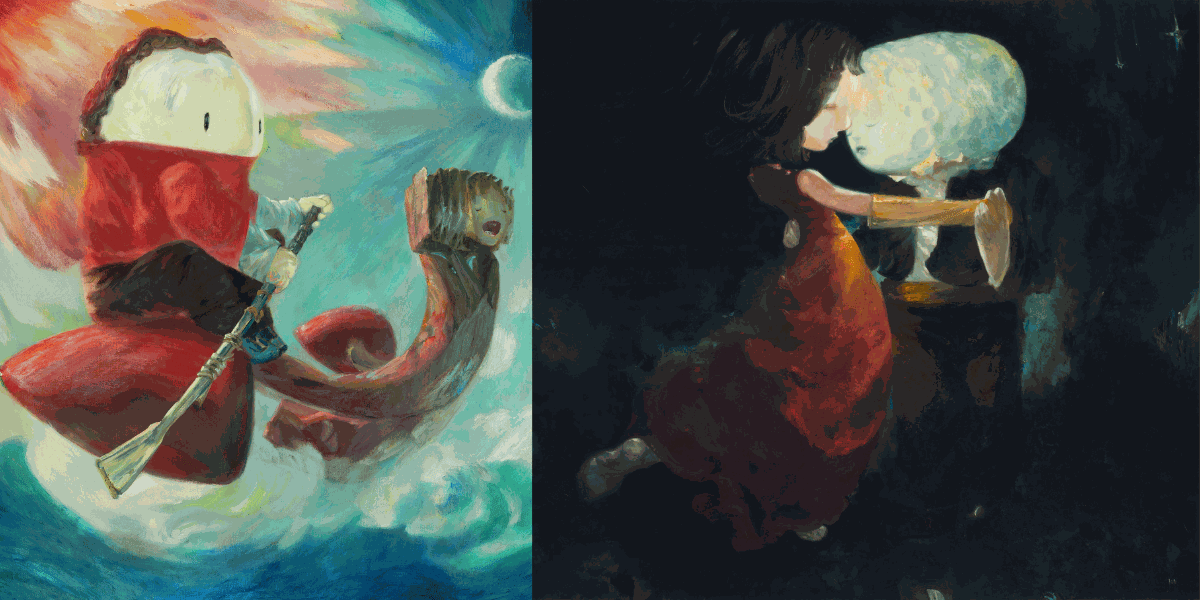 Your artwork often tells a story or suggests a narrative if you imagine it as a whole illustrated novel, what would be a title you'd like to give it?
In Celebration of Balance and Opposable Thumbs', seems to sorta fit the sum of it so far, but I will have to see what happens.
What should we expect from the new Sorren? What sentiment do you wish to convey?
I love this quote from Rumi. He said, " Sell your cleverness and purchase bewilderment."
This thought is my guide as I develop this new body of work for you. I cannot wait to share!