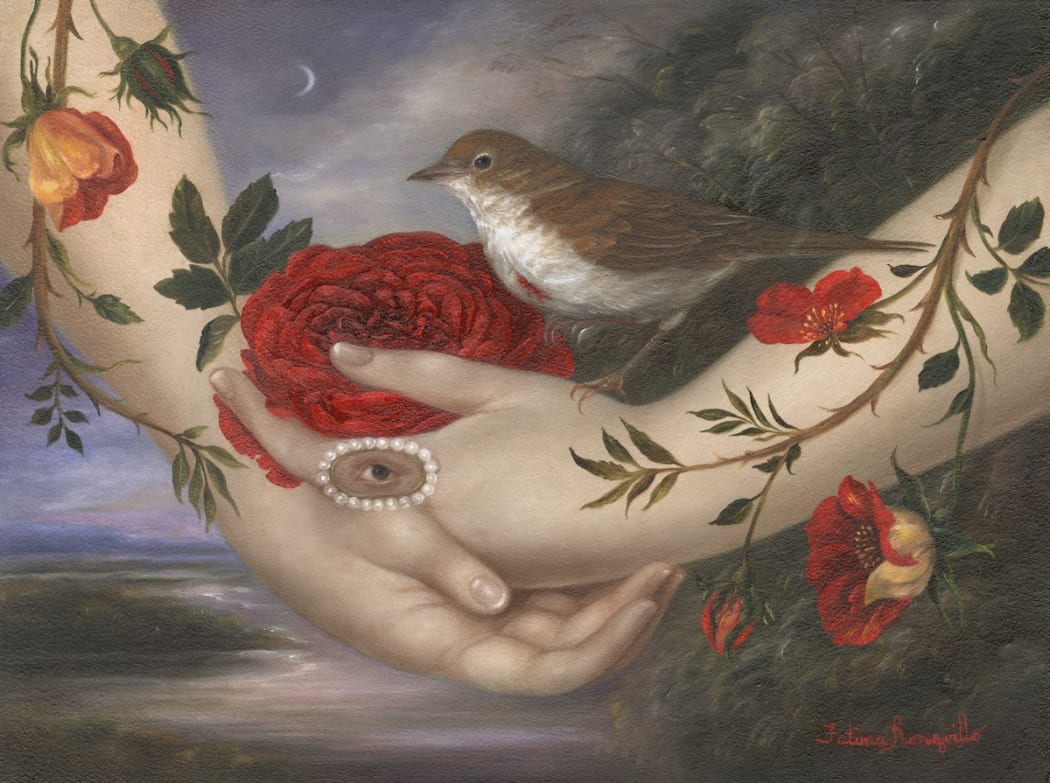 In the realm of art there is a rare alchemy: an interaction of traits and scents that transcends time. This alchemy finds its quintessence in the masterful works of Fatima Ronquillo, whose canvases resonate with a timeless fragrance, bridging the abyss of centuries. From the reigns of the great masters of the 16th century to the vivid brushstrokes of Botero, Ronquillo's artistry testifies to the enduring power of creativity. We embark here on a sensory journey, following the traces left by Ronquillo's strokes as they weave a narrative that unites epochs, artistic genres and souls. We will attempt here to tell of a world where art whispers secrets across the centuries, where each stroke is a step towards bringing us ever closer to the magical and romantic realm of Fatima Ronquillo's masterpieces.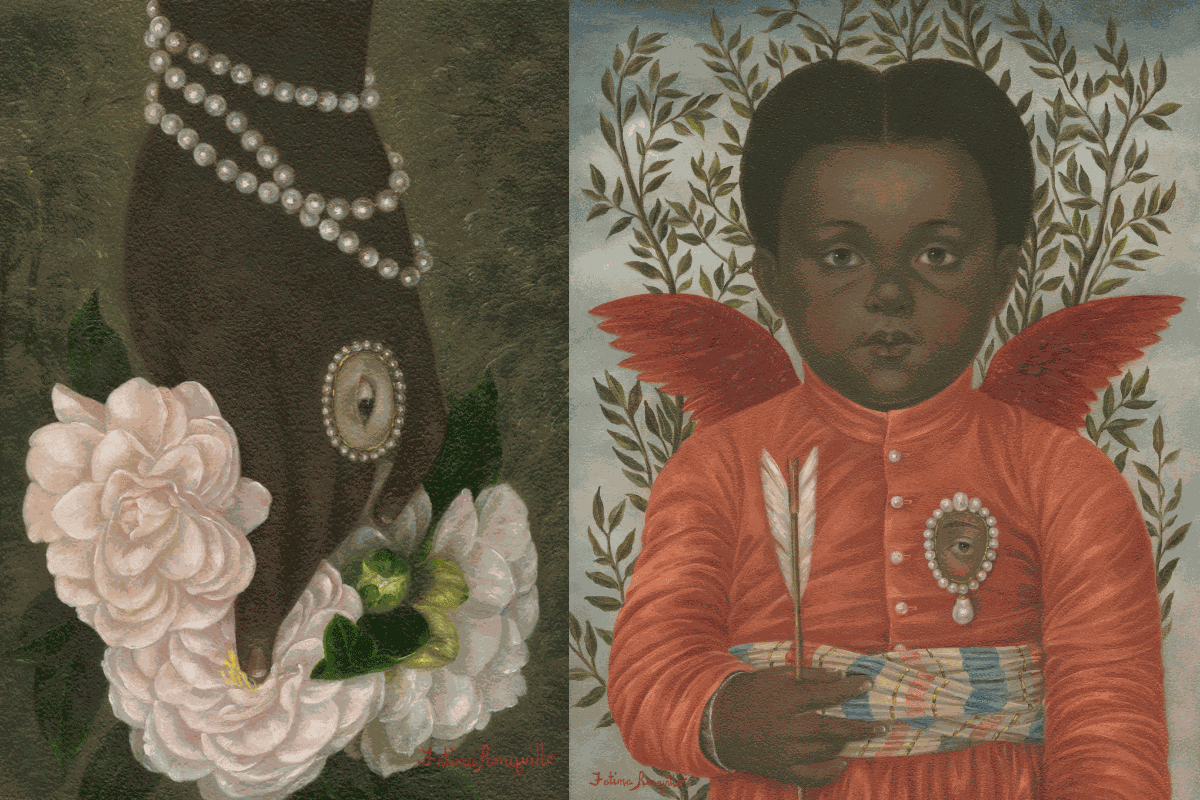 Born in San Fernando, Philippines, in 1976, Fatima Ronquillo emigrated to the United States as a child in 1987, where her family settled in San Antonio, Texas. She currently resides and works in Santa Fe, New Mexico. Her work is included in renowned private collections throughout North America and Europe.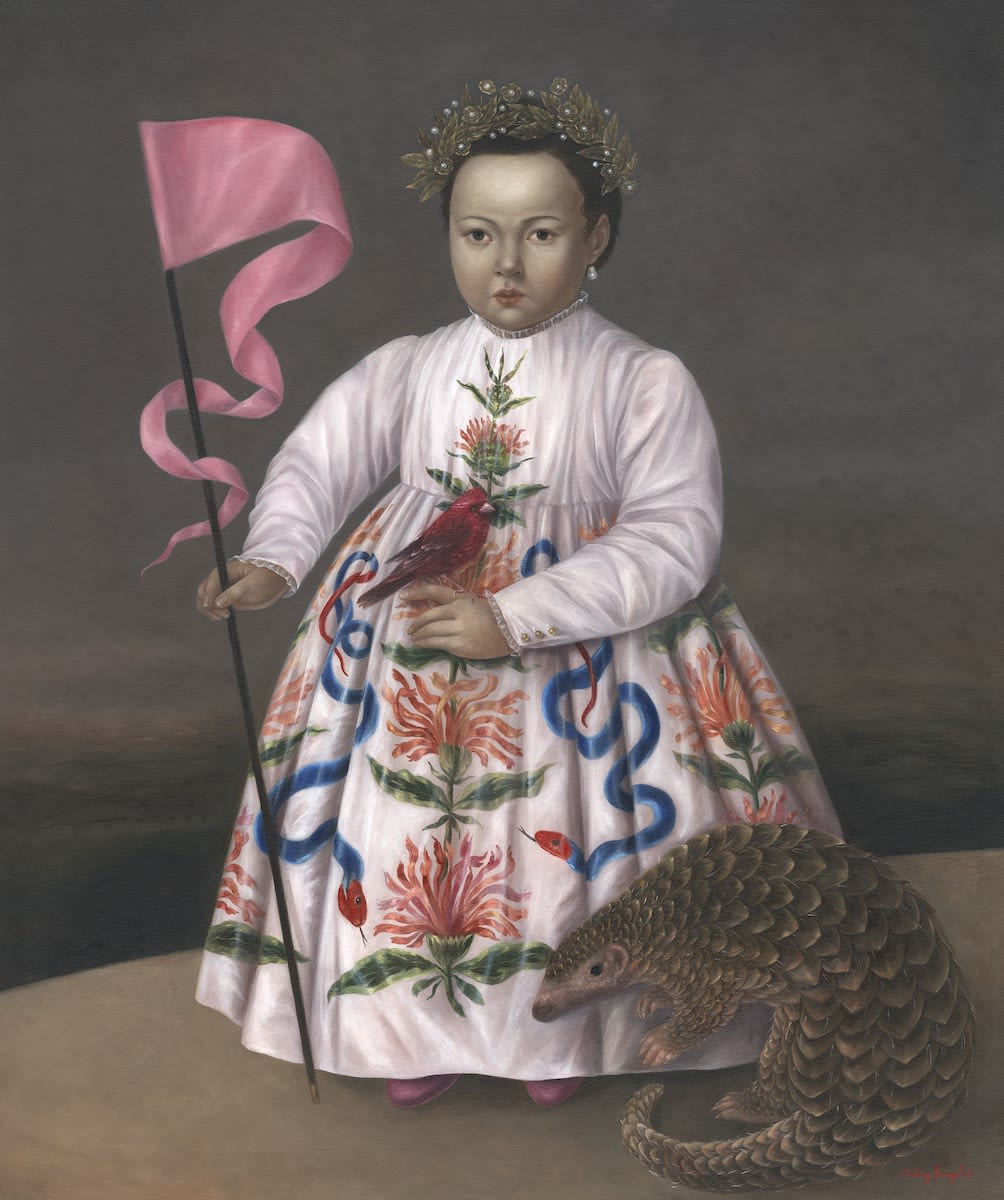 Pink Flag by Fatima Ronquillo, 2023
"I don't set out to paint something with "mystery". The pieces just magically turn out that way. I think it is because I myself like to be surprised by the secret longings of a painting"
Fatima Ronquillo
(Interview by Raquel Fernández Sobrín)
Fatima Ronquillo has a self-taught career by which she has achieved an exceptional painting technique and whose classically inspired images evoke a world of serenity and charm. Her portraits of mysterious characters, often set against pastoral and idyllic landscapes, are accentuated by a coexisting sense of drama and playfulness. These intimate and romantic works are painted in the pictorial style of the old European masters and pervaded by the codes of a magic realism rooted in the popular and colonial traditions of Latin America. Her painting is an authentic voice echoing from an inner world where art history meets nostalgia and imaginary characters from literature, theatre and opera.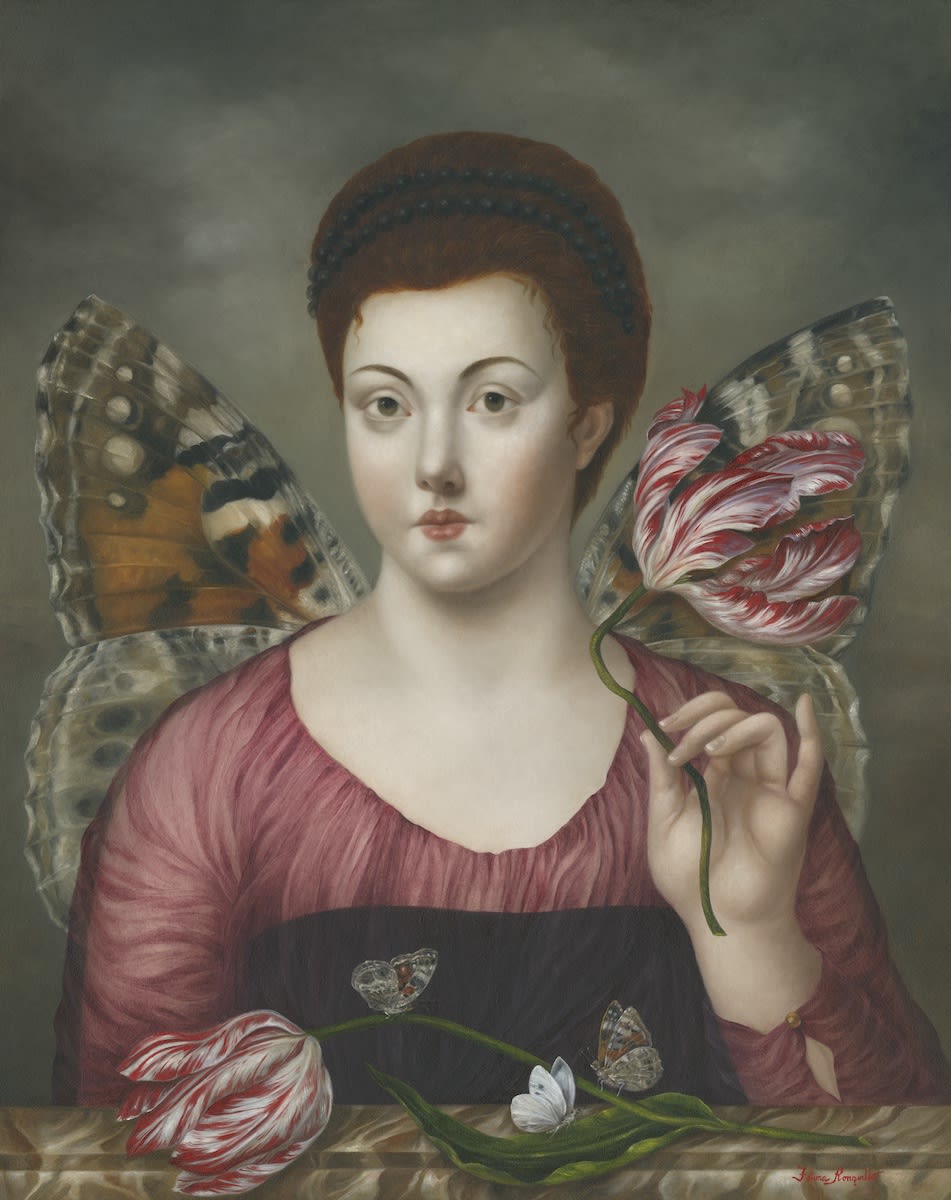 Psyche with Tulips and Butterflies by Fatima Ronquillo, 2021
We have chosen to delve into the symbolism of Ronquillo's art to prepare ourselves for a more informed reading in view of the exhibition opening on 5 October at the Dorothy Circus Gallery in London entitled 'Amore an Ode to Love'.

On this occasion, Fatima Ronquillo will unveil an extraordinary collection of five brand new works, each of which testifies to her mastery of classical inspiration, enchanting painting and the fusion of rich cultural traditions.
Central to this collection is the theme of love: its pleasures and its pain. Drawing inspiration from the timeless poetry of the likes of Shakespeare, Spenser, Hafez and Oscar Wilde, Ronquillo delves into the complex tapestry of human emotions.

In Ronquillo's hands, the canvas becomes a portal to a world where love transcends time and culture, where emotions are universal and deeply personal.
FATIMA RONQUILLO POETIC'S
Fatima Ronquillo, a Filipino-American artist beloved by collectors all over the world, through the skilful use of the techniques of the great masters, which she combines with a modern sensibility, creates works of incredible and refined beauty, capable of transporting us into a dreamlike dimension filled with literary and cultural references.
In creating her masterpieces, the artist draws inspiration from mythology, traditions, literature and magic realism.
According to Fatima Ronquillo, in fact, the lens of magic realism allows her to fuse the fantastic with the everyday in her works.
Clasped Hands with Silk Moths and Lover's Eye by Fatima Ronquillo, 2022
Her artistic career began at a very young age, with her first exhibition at the age of 15. Since then, her works have started to be exhibited and collected all over the world, continuing to fascinate and transport us to a dimension filled with beauty, symbols, and allegories.

Fatima is a self-taught artist who started drawing at a very young age. She began by emulating the great masters from different eras and then found her own artistic expression, which makes her absolutely unique to this day.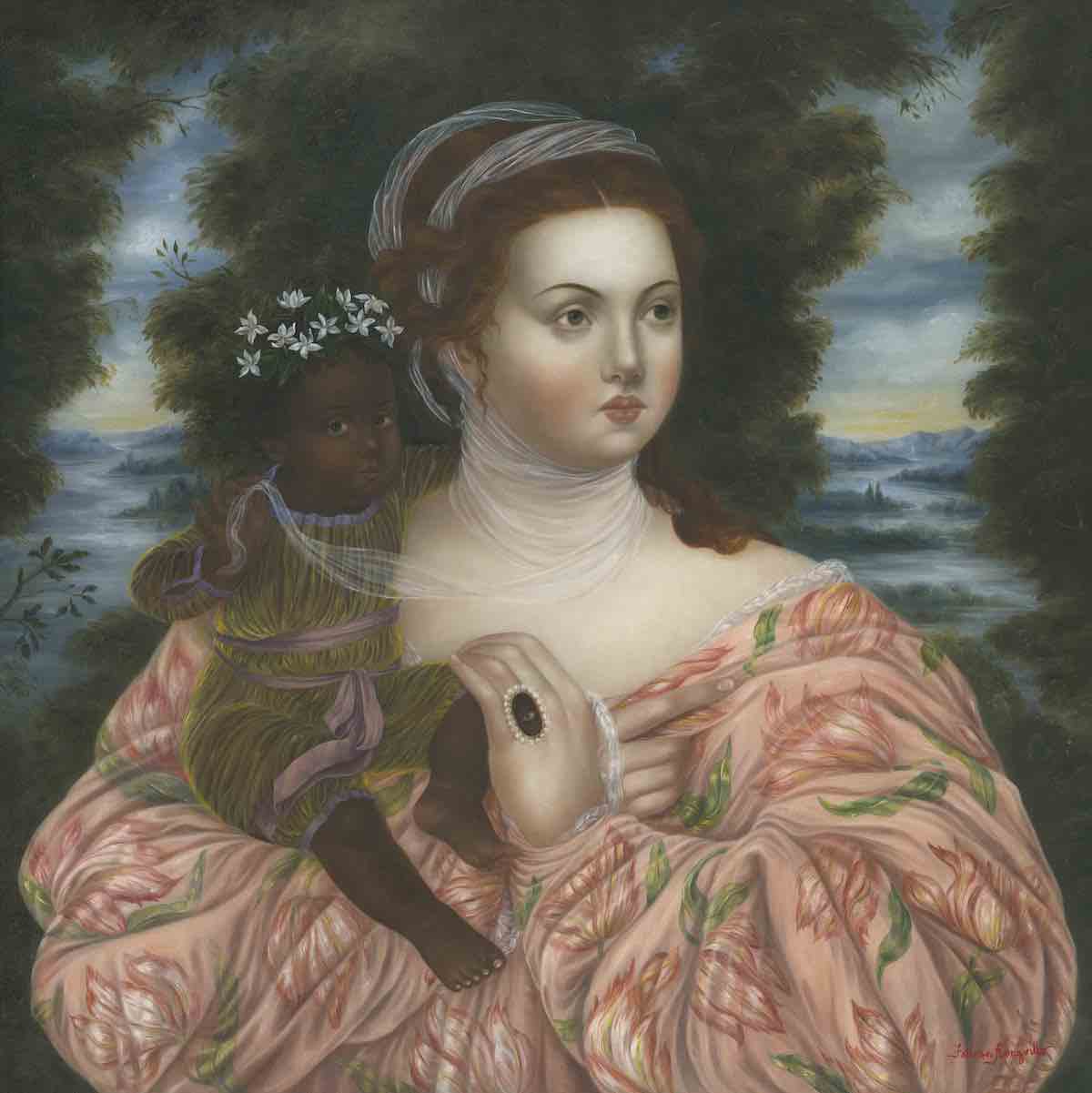 Mother and Child at Daybreak by Fatima Ronquillo, 2021
Central to her work is the portrait. This is because Fatima loves the idea of a representation of the person that is not like a photographic one. Through the painting, she is able to represent man in his essence, because this does not impose on her a hyper-realistic representation of the subject. Her love for portraits started when she was still a child, and she was struck by a portrait from Picasso's blue period.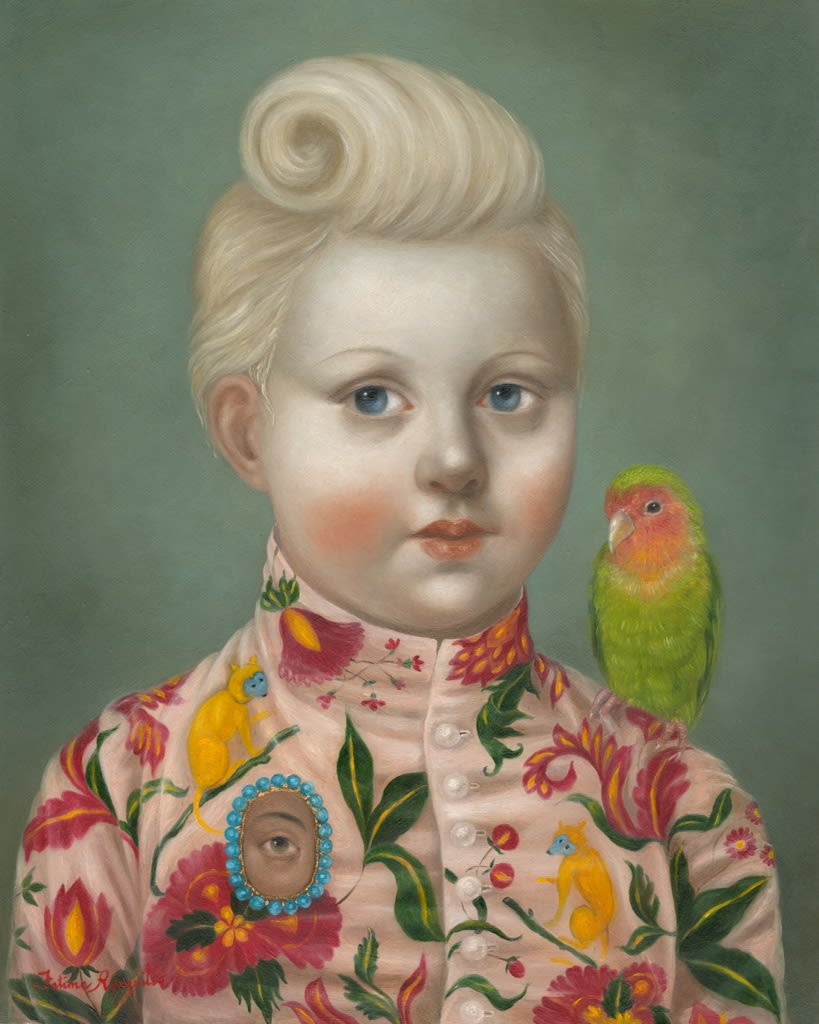 The Lovebird by Fatima Ronquillo, 2019
The focus, in her works, is in the gaze. The gaze, in fact, which arouses fascination and curiosity, can be found not only in the splendid portraits she paints, in which it is sometimes obscured by masks or transparent veils, but also and above all in the Lover's Eyes that dot many of her works. We find the Lover's Eye represented as pendants, rings and brooches.
THE LOVER'S EYE IN RONQUILLO'S ARTWORKS
The representation of the Georgian-era Lover's Eye in her works began when, around 2010, after some research he was doing on the subject of 'recuerdos' or Mexican memories, she discovered their existence. While the recuerdos were small tin forms of body parts, such as an arm or a heart, that were part of prayers, and were therefore linked to a religious dimension, the lover's eye was rather a form of devotion of the lover, therefore more linked to the sentimental sphere.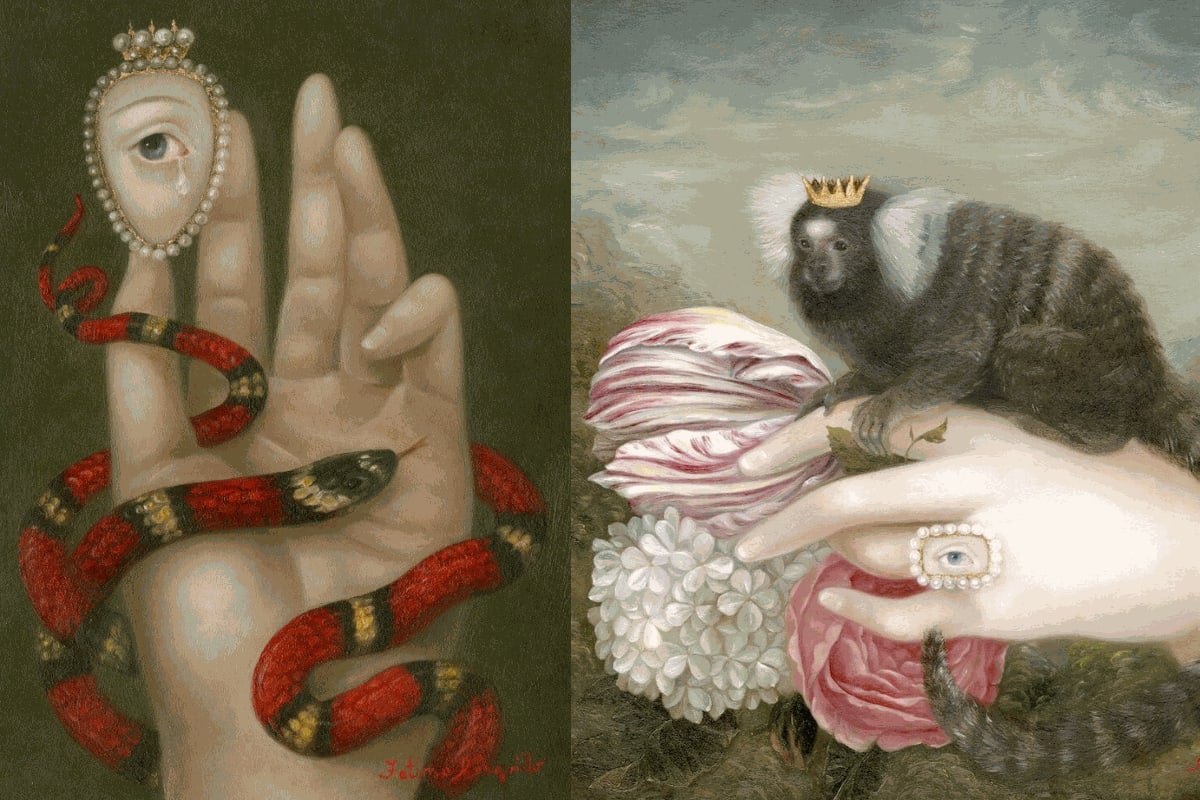 Hand with Snake and Weeping Eye, 2016 & hand with Crawned Mamoset, 2018
by Fatima Ronquillo
The artist was deeply impressed and fascinated by them, and has since then begun to incorporate them very frequently in her works, which often have the theme of Love at their centre.
With the Lover's Eye, the artist conveys 'a terribly romantic imagery of hidden love, of devotion and of loss'.
In addition, with the depiction of these small, minute objects, Fatima creates something absolutely fascinating: the portrait within the portrait, thus creating deeply evocative works.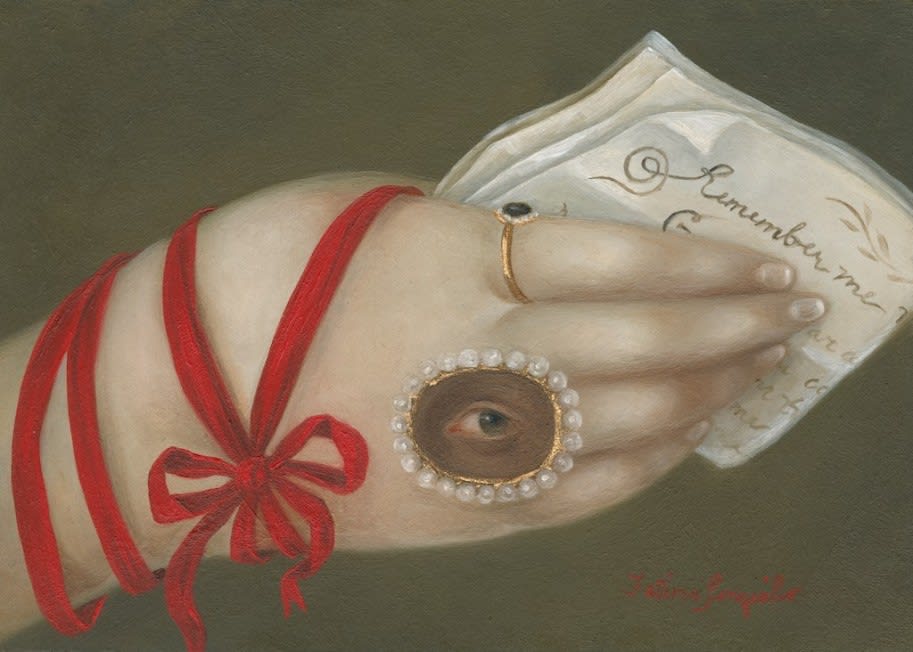 Artwork by Fatima Ronquillo
"The surreal aspect of an isolated lover's eye attracts me tremendously—the idea of physical dismemberment which is symbolic of a removal or estrangement of a loved one, not unlike the reliquaries of saints in old devotional images. It reminds me of the Mexican 'milagros' – little charms of different body parts used to aid in praying for the healing of broken arms or hearts, or even eyes. Compositionally speaking, the framed ornamental eye gives context and a reason for a floating third or fourth eye in a painting. It is a device of conceit: a portrait within a portrait."
Fatima Ronquillo
The Runaways, 2012 & Flora with Piglets, 2015
by Fatima Ronquillo
Equally central to Ronquillo's production are the human figure, flora and fauna, as well as certain symbolic objects.
The artist not only draws inspiration from other artists of the past, but also from literature, opera and mythology.
With regard to mythology, the artist mainly feels connected to myths concerning nature, metamorphosis, or myths related to the figure of lovers.
Poetry is also a great source of inspiration for her. In particular, she has been inspired by the poetry of Shakespeare, Christina Rossetti and Maya Angelou, but also by Edmund Spenser, and Hafez.
She herself said: "I travel to other places in my mind when I read, which provides a starting point."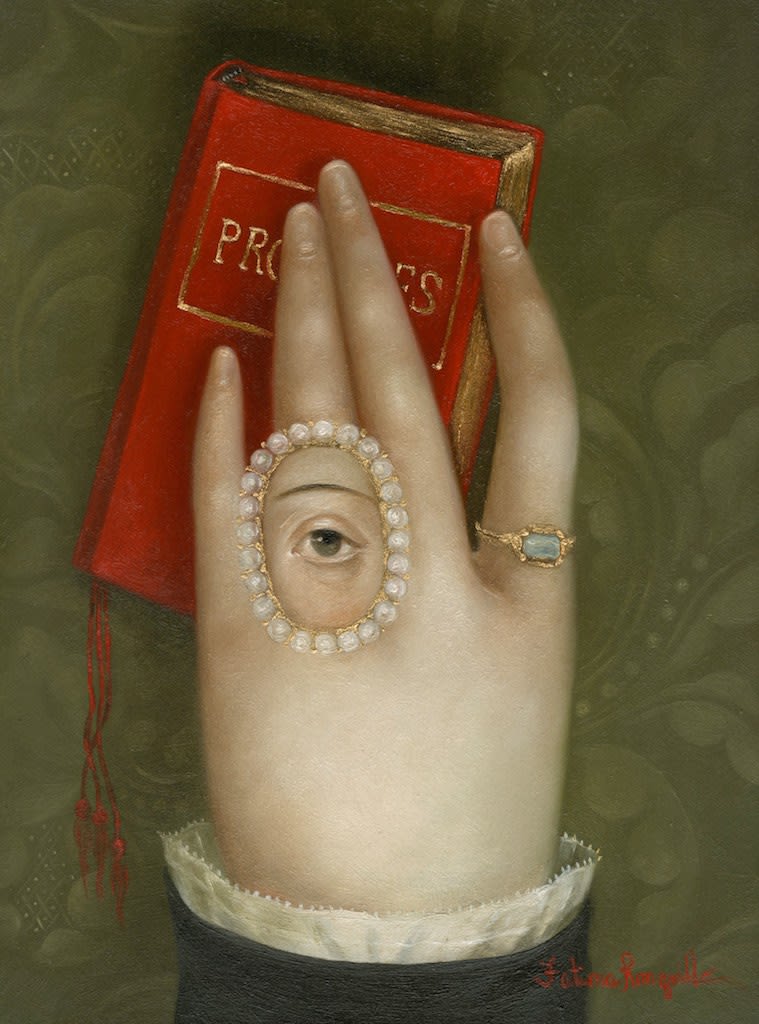 Hand with Promises
by Fatima Ronquillo, 2015
Love tokens such as cupid's arrow, the billet doux or the lover's eye are symbolic of the figure represented and the absent figure―the object/source of affection/heartbreak."
Fatima Ronquillo
In addition to the Lover's Eye, other objects find their way into her masterpieces: letters, books, lots of flowers, jewellery...
Her is a world of beauty, in which various animals often emerge alongside the human figure, such as monkeys, colourful birds, snakes, tigers and squirrels. In particular, she often paints hummingbirds, which she often encounters on her walks and of which she loves the symbolism that her Navajo friend's grandmother told her: "The hummingbird represents ability to perform quickly with beauty in whatever the task. So if you catch one, hold it gently and bless yourself with it saying a prayer....It's name is k'aa loo gii..."
Hand with Hummingbirds and Orchids
2020, by Fatima Ronquillo
"There is a mad enchantment that possess the heart and mind when confronted by the possibilities glimpsed through visions of beauty and love…"
Fatima Ronquillo
All these representations carry deep and hidden symbolism, while the animals act as alter egos of the characters portrayed, creating a common thread linking all the elements of the work.
Her subjects are conceived as characters in a play, rather than as real individuals.
In her portraits, the child is often portrayed, a very important figure for the artist, as she represents the idea of innocence and purity, as well as the bliss of those who have not yet experienced the difficulties of life.
Borderlands by Fatima Ronquillo, 2022
"Human emotions are as universal as the ideals of beauty. The need to love and be loved is strongest of all. It is a theme which has preoccupied writers and artists since the beginning of culture. I return to it repeatedly, recalling characters from literature or opera. My invented portraits are nearly all solitary and often are of children. They are haunted by a solitude experienced by those who find themselves strangers in a strange land, simultaneously longing to escape and connect."
Fatima Ronquillo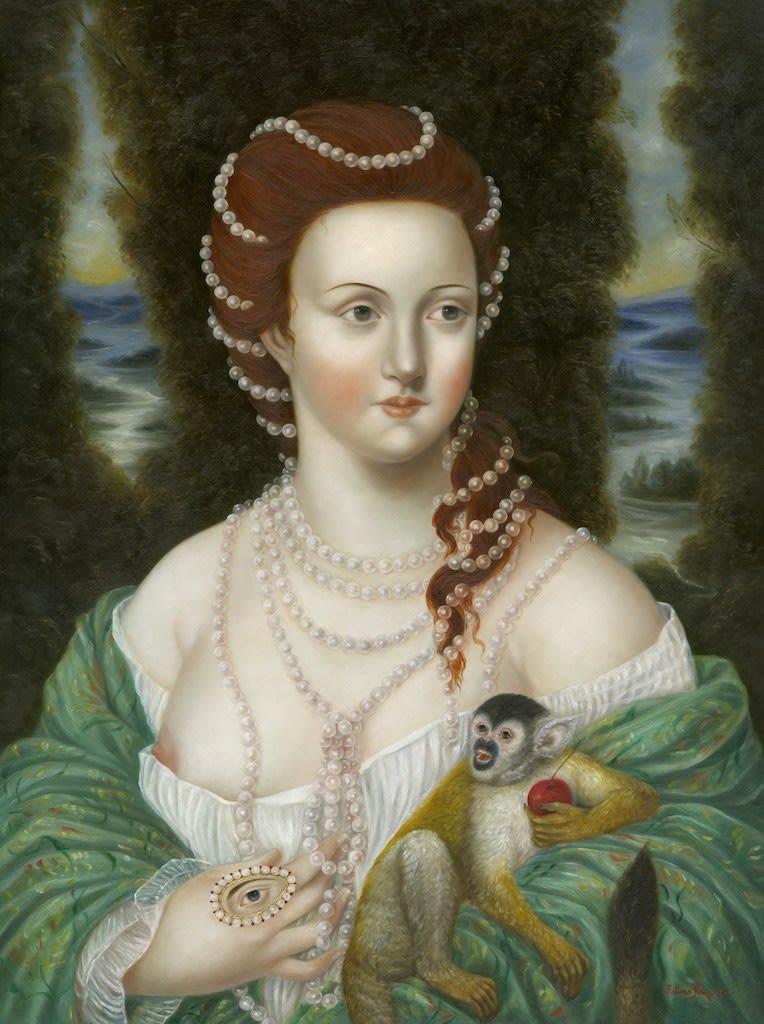 Venus Triumphant by Fatima Ronquillo, 2017
Ronquillo's paintings, infused with mystery, are an expression of her vision and romanticism. Each one is a story told through symbols and metaphors.
The beauty, but also the fragility of man and nature are painted with great skill and lyricism.
Even the love she depicts is not a perfect love: it is romantic, but also nostalgic, and can be a source of sadness and suffering. Hers is a real, true love, made up of light and shadow.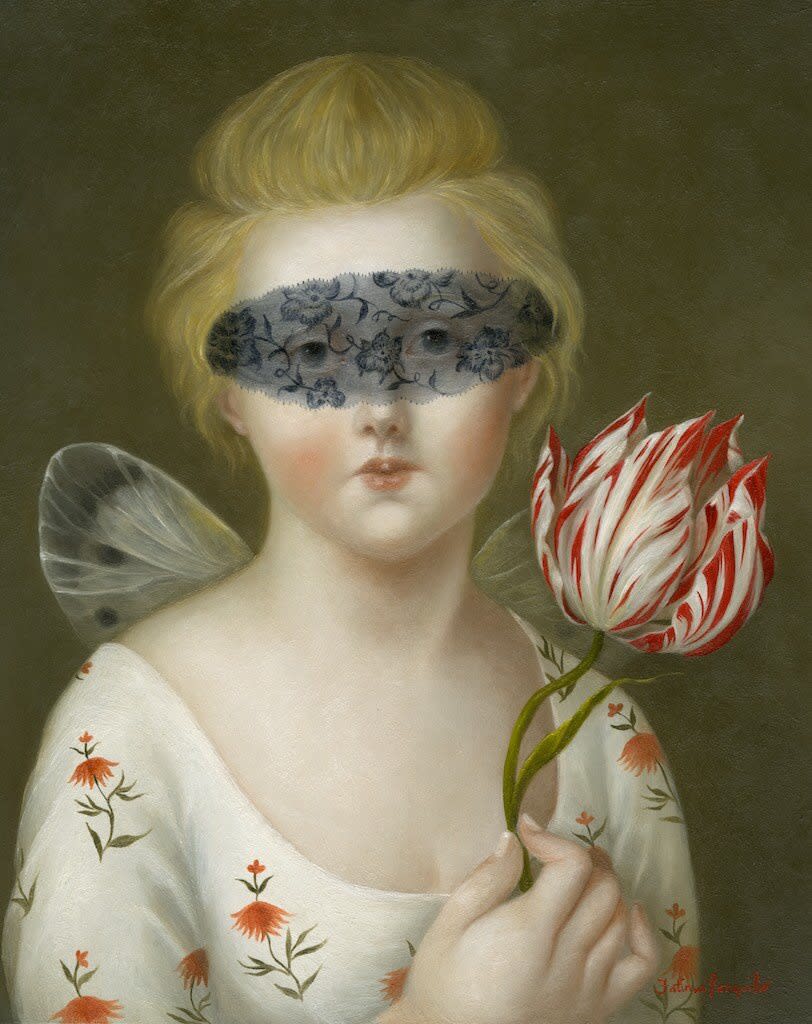 Psyche with Blindfold and Tulip by Fatima Ronquillo, 2016
Her is also a blind love, sometimes. Indeed, we find magnificent works in which the character portrayed is blindfolded. The blindfold is often semi-transparent, making us realise that, although love is blind, it often arrives with a shameless awareness.
Love is a constant presence in Ronquillo's works. It is the dominant presence that, like the fragrance evoked by floral elements, permeates her works, and reaches us, transporting us with its essence from its magical, surreal and timeless world to that of our present moment.
"I am fascinated by the complex nature of love, at once a source of pleasure and pain. There is the ecstasy felt by the chosen beloved or ardent admirer. Love's fleeting nature however, also highlights the despairs of the forsaken, unnoticed and forgotten lovers, often symbolized by physically visible wounds."
Fatima Ronquillo
Allegory of Spring by Fatima Ronquillo, 2017 &
Bagnante by Élisabeth Vigée le Brun , 1792
The wonder of the works created by Ronquillo's hands lies both in the technique and in the depth of meaning, as well as in the references to the past, to different art forms, and to disparate artists, as well as to epochs that are very far apart. This makes Ronquillo an absolutely complete artist.

Because Fatima paints her works with the technique of the great masters, each work is for her something complex but at the same time engaging. Quoting the artist: "Painting in an Old Master's style is difficult and engaging." "I've been painting all these years and yet everyday I learn something new."
Flora with Red Squirrel by Fatima Ronquillo, 2022 &
Portrait of a Young Girl with Carnations by Jan Albertsz Rotius, 1663
Ronquillo also says that his artistic production requires solitude. Her is therefore a very intimate process. And this intimacy is particularly evident in her drawings, which the artist very rarely shows. Fatima sees them, in fact, as extremely personal to her creative process.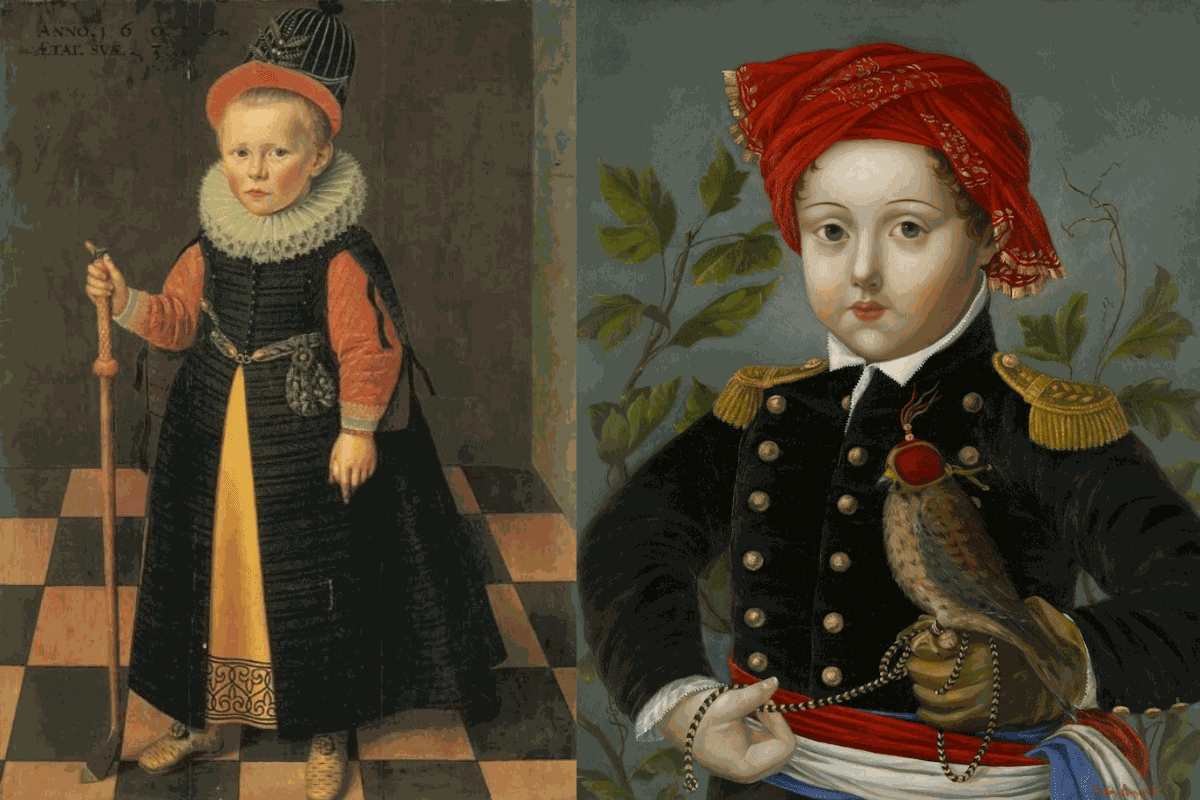 Portrait of a young boy, aged three years old, full-length, in a yellow petticoat, a pink slashed doublet and an embroidered black tunic, holding a kolf club and ball by Circle of Adriaen van der Linde, 1607& Falconer with American Kestrel by Fatima Ronquillo, 2015
Looking at the works and artists she is inspired by and to whom Ronquillo feels particularly attached, we find Jean-Baptiste-Camille Corot and Agnes Martin, but above all Jean-Antoine Watteau, whose underlying melancholy permeates her works, intimate, mysterious, concealing hidden desires.
In addition, her love for Rococo and Renaissance art clearly emerges from his works.
In her paintings, we find many references and a strong connection to 16th and 17th century European paintings.
The poses of the characters depicted, their gazes, the natural elements and landscapes, as well as the colours - all these elements transport us back centuries.
Ronquillo also refers in her installment to the Santos and retablos of Spanish colonial art.
The Inconstant by Fatima Ronquillo, 2011
& A Young Girl holding a Chaffinch (Flemish Antwerp School), c. 1615 - 1622
In front of Fatima's works, we cannot help but be transported to bygone eras, and be captivated by the different elements that enrich them and make them irresistible. Each element is perfectly designed and represented to tell us something. Like coral, which we find declined in different ways, emerging to convey to the viewer its apotropaic and curative value.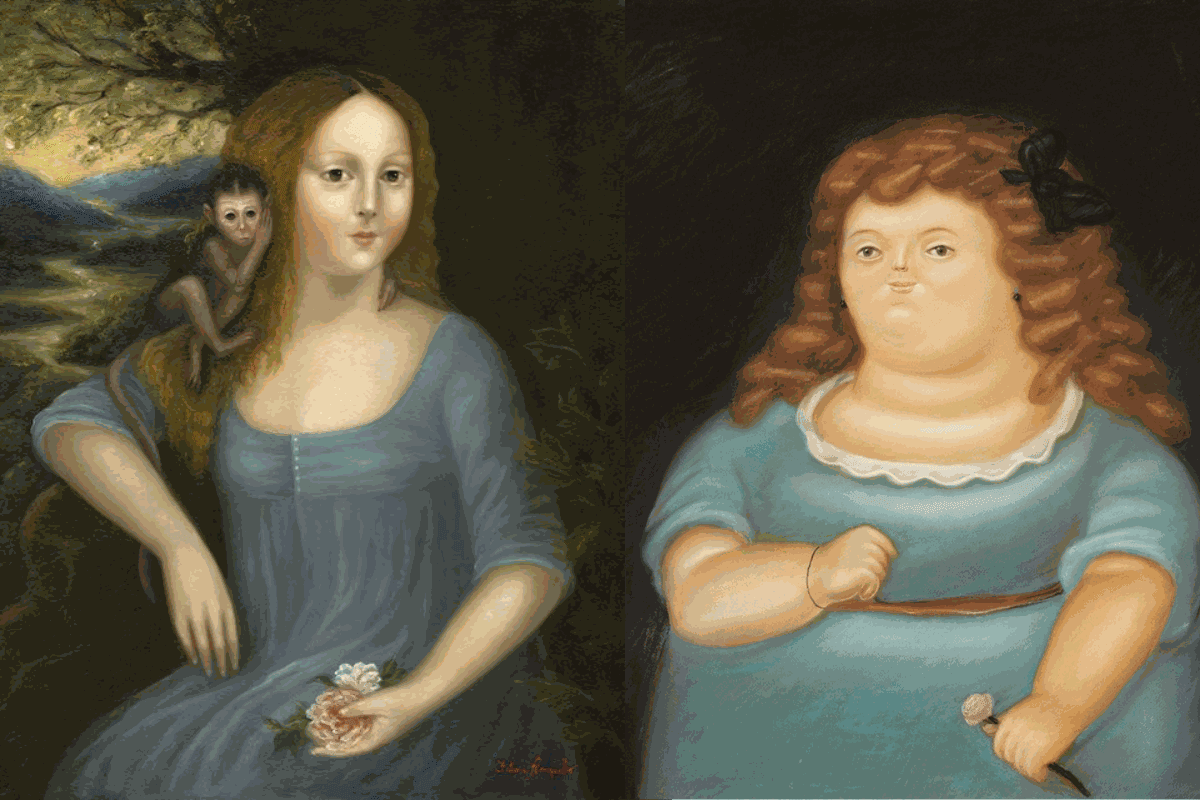 Painting by Fatima Ronquillo & Young Girl with Pink Flower by Fernando Botero, 1968
We can perhaps also find a certain similarity between Ronquillo's works and those of the great Fernando Botero. Their female figures with florid faces, their small closed lips, their lively eyes looking at us sharply and sometimes even flowers between their fingers, make us imagine that perhaps Ronquillo and Botero have a parallel sensibility. In Ronquillo's softness we can find the shapely lines dear to Botero, who through them seeks to express sensuality, fullness, the exaltation of life, energy and positivity. Both have made softness their hallmark.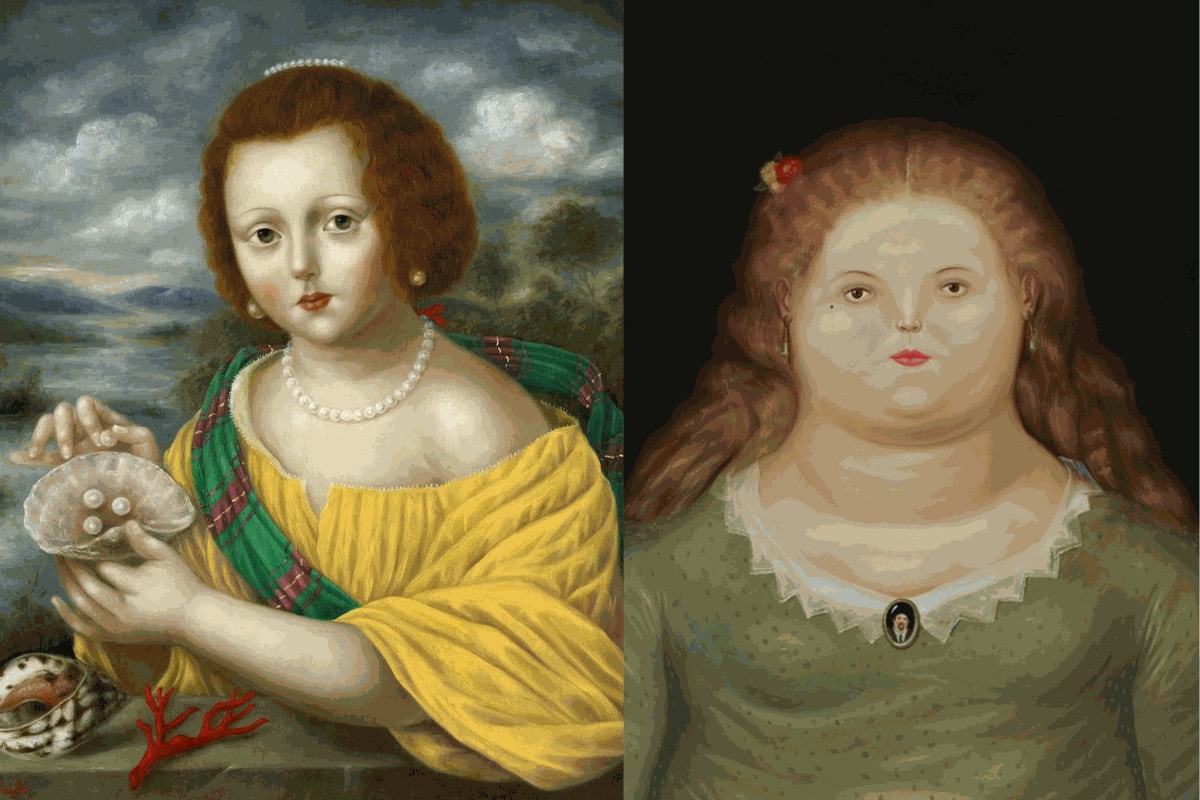 Girl with Perls, Seashells and Coral by Fatima Ronquillo, 2016
& Delfina by Fernando Botero, 1972
To look at one of Ronquillo's works is to catapult oneself into other worlds, to experience bygone eras, to experience the thrill of delicacy, to immerse oneself in nature, to hear birdsong and the poetry of life and love. Through the depiction of mysterious figures, wrapped in brightly coloured clothes and immersed in timeless landscapes and melancholies, Ronquillo gives us a vision of a beauty as rare as it is precious.
"I like to have an opening for the painting to go another way, for things to subconsciously seep through. When I'm drawing, I have all kinds of references out, but then when I'm painting, I put them all away and pretend I'm back in the Renaissance when they didn't have computers and this enormous catalog of images."
Fatima Ronquillo