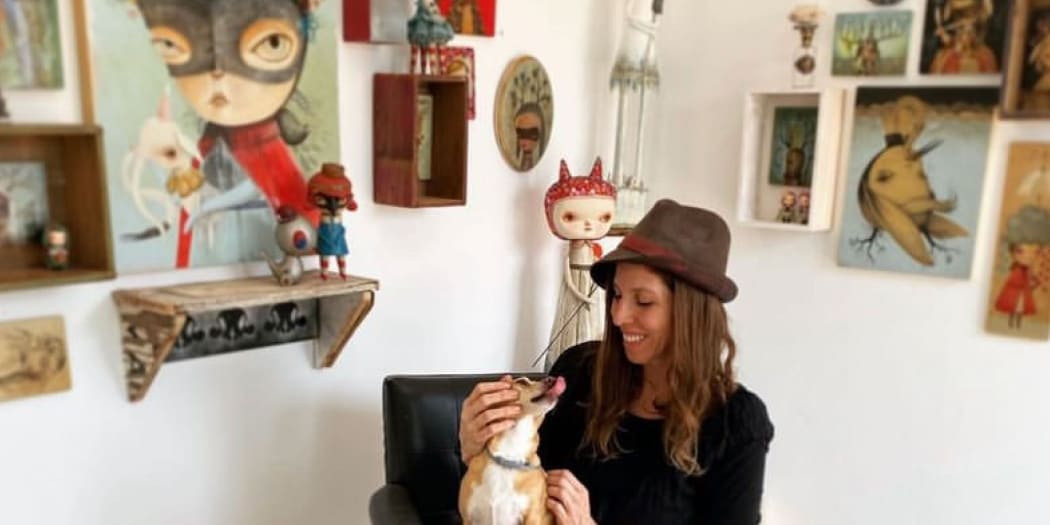 Kathie Olivas plays hide and seek with the symbology of fortune
, conveying signs and secret messages through the folds of bows, ribbons, and laces that distinguish the typical character of the artist, marked by the vintage vibe that has made her work prominent and unique.
The iconic protagonists of Kathie Olivas's
' work, who already in 2007 were recognised as vinyl figures under the brand
Kidrobot
, came back more mischievous
and delightful
than ever to bring a message of positivity and good fortune in a pop-surrealism pattern.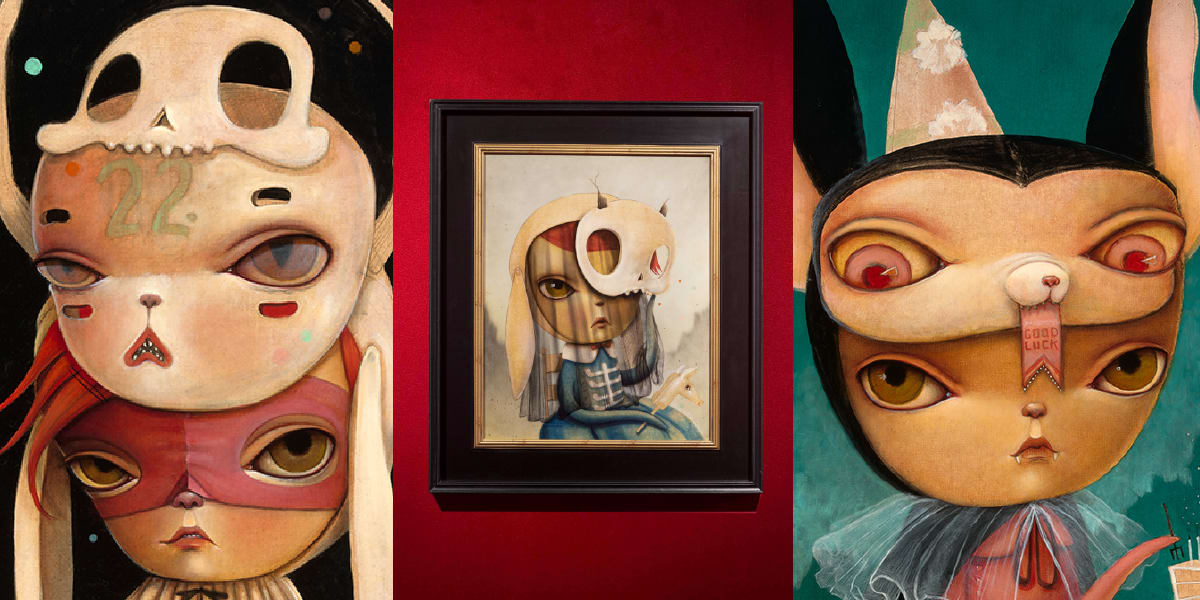 We would like to share with you below the interview Kathie gave on the occasion of the exhibhition that will be in Rome starting November 19 :
You have created a very specific style of portraiture which has since become extremely popular in the pop surrealism field. What would you say is key to this style and what, in your opinion, makes it so magical? Furthermore, how does your art fit in the contemporary art scene on an international level? How would you describe your style and artworks compared to other art movements that currently exist?
For me, the key to forming a style is more about tapping in to a place of shared comfort and euphoria, and nothing comes closer than my childhood and the imagery and characters I connected most to. At the time, my earliest connections to artmaking were in animation and illustration along with my own toys and odd collections.
When I create, i do so by memory or imagination like a form of automatic drawing; I try to channel what things looked like in my mind and I just start creating shapes. I don't use any reference material other than the occasional odd face or pose I see one of my dogs (my 4 studio mates) make while I'm drawing directly on a canvas.
I think there is a universal connection to play and curiosity; it's an escape; it provides a disconnect to the daily stress of adult life. I'm not sure if that's what others connect to, but for me it was about being able to create my own characters that looked more like me, like a mascot, some sort of inner cheerleader. I wanted to see more strong female characters, gender non-conforming characters, unapologetic characters who were disabled or chronically ill. I wasn't interested in being a princess or being saved by some sort of rescuer.
I'm not sure where I fit in any sort of art scene. My work is very personal and acts as a form of art therapy for me. I've been doing sentimental portraits and storytelling since I was a child, and professionally for almost 30 years; it's more of a compulsion and because I'm often told this was some sort of fleeting trend, it's never been something I've felt necessary to dissect at that existential level.