Ever since the ancient times, the eyes have always been the most fascinating, special and evocative physical element for man.
The eyes have inspired writers and artists of all times, we find them in the most ancient religions and cultures, with different characteristics, but always at the centre of human interest and study.
The eyes are linked not only to the idea of sight, but also of sight beyond the sensible reality, of vision of the future, of another reality. In some religious and esoteric traditions we find the third eye, also called the 'inner eye', an organ that allows us to perceive realities invisible to the human eye.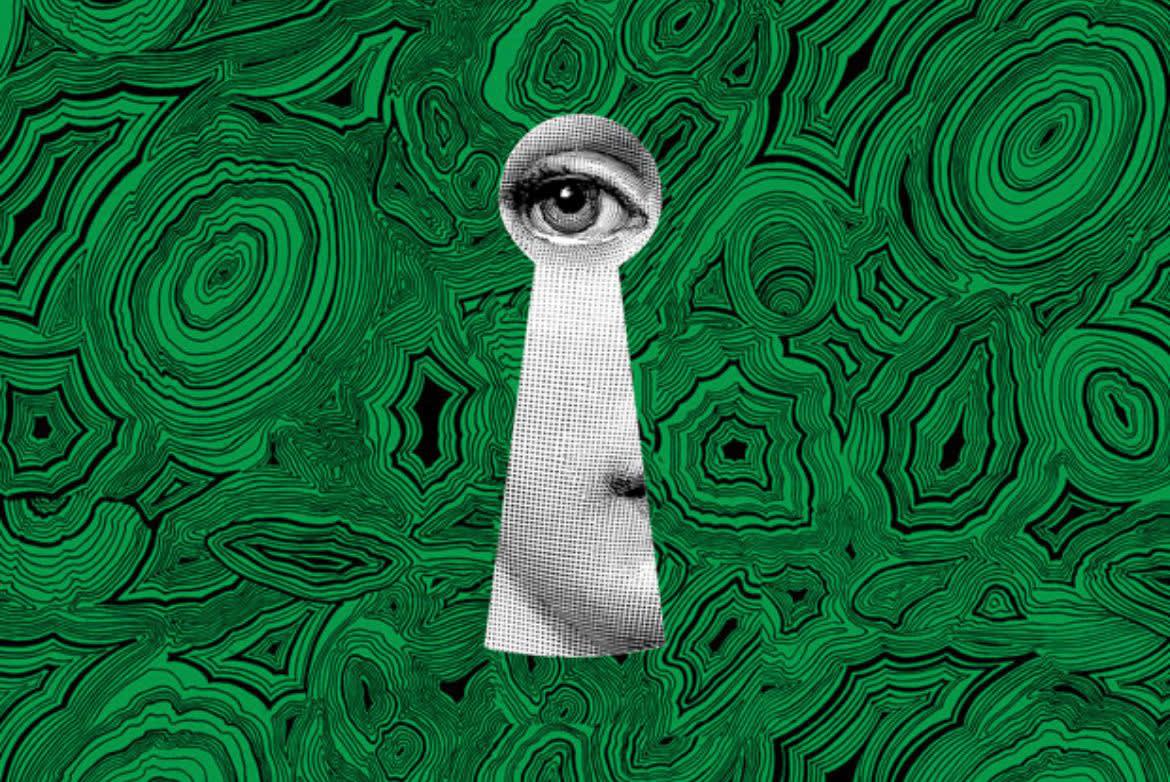 The eyes are and have been, especially in the past, also a symbol of good luck: we find them in Egypt, but also in Greece, Turkey, where we find the Nazar, the eye of Allah, a blue amulet that protects against the evil eye, derived from an ancient Turkish legend, and even in Italy, where we find the eyes of Santa Lucia, calcareous lids called opercula, which close the spiral-shaped shell of the mollusc Astraea rugosa. These 'eyes', with which some jewellery is made, seem to have the power to ward off the evil eye and protect the wearer.

MC Escher (1898-1972), 'Eye', 1946, mezzotint, signed in pencil, inscribed 'eigen druk' and numbered 'No. 5 ', on Van Gelder Zonen laid paper. Photo © Sotheby's (Left)
René Magritte, Le Faux Miroir, 1950 (Right)
Of great importance was the representation of the eye in ancient Egypt. It was first and foremost a symbol of protection, called Eye Oudjat or Eye of Hori. It is a symbol not only of vision, but also of fertility and the phases of the moon.
Egyptologists believe that it is a hybrid eye between that of a human being and that of a falcon. But not only that, it is also linked to mathematics.
This amulet was worn for its apotropaic effect by men, deities or sacred animals.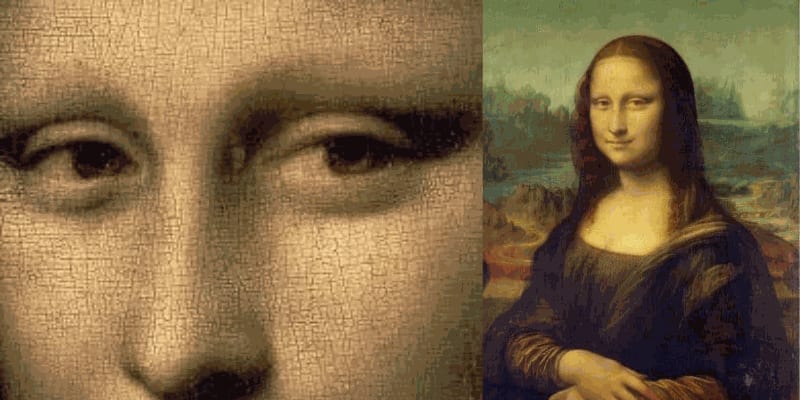 Monna Lisa (La Gioconda) by Leonardo da Vinci
Over the centuries, then, the representation of the eyes clearly changed. If in the Middle Ages we find almost stylised eyes, in the Renaissance expressive, lively-looking eyes began to emerge in works of art.

Leonardo da Vinci described them: 'The eye, by which the beauty of the universe is mirrored by contemplators, and of such excellence, that he who allows himself to lose it, deprives himself of the representation of all the works of nature, for the sight of which the soul is content in human prisons, through the eyes, by which the soul represents all the various things of nature'.

We have a clear image of this in the Mona Lisa, a work in which the eyes of the mysterious woman depicted seem to follow our gaze, creating a very deep contact between work and spectator.
The eye, as da Vinci expressed, is also an expression of the soul, a mirror of the soul, and they have also often been linked to the idea of love.
Through the eyes we can admire our beloved. It is often the eyes of a person that enrapture us and make us fall in love.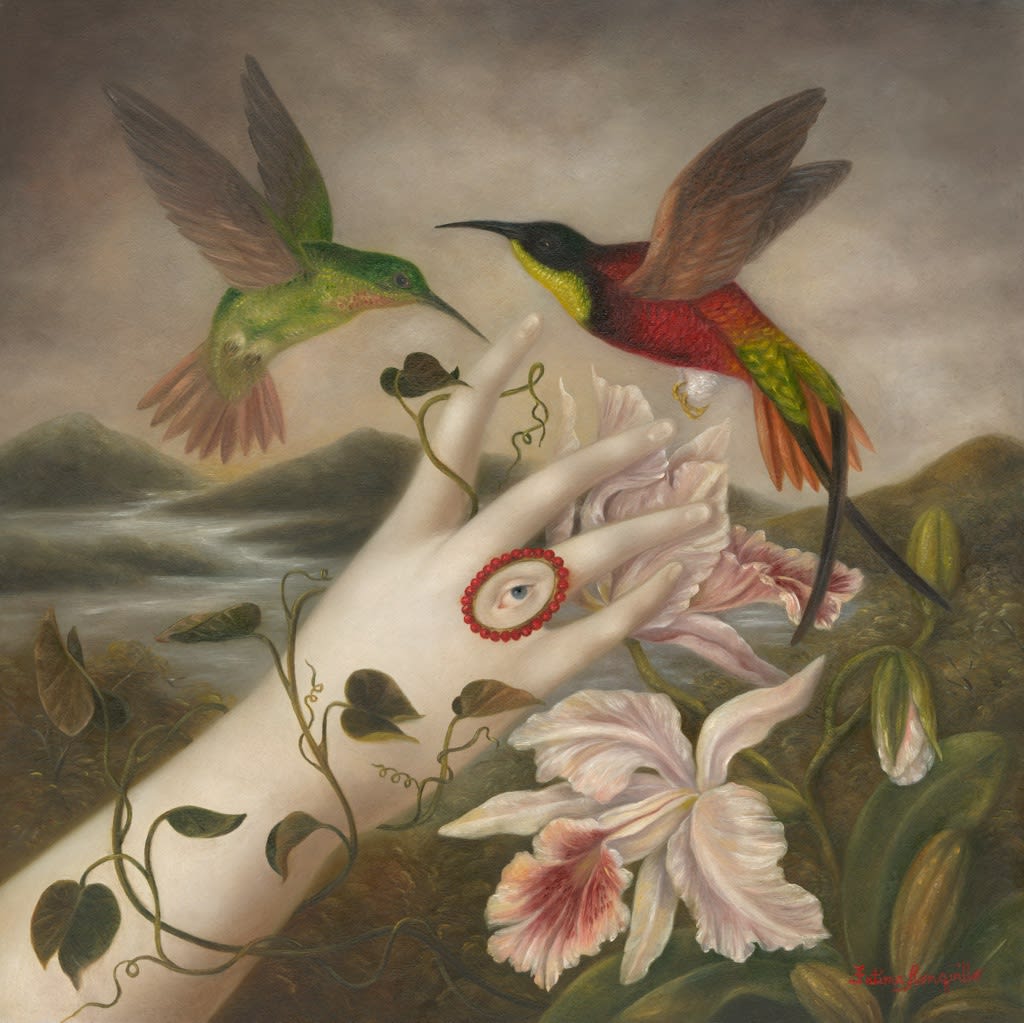 Hand with Hummingbirds and Orchids © by Fatima Ronquillo
Shakespeare, too, in sonnet XXIV connects the idea of love for one's beloved to the sight of her and their eyes, which trace their forms and shapes their love.
"Mine eye hath play'd the painter and hath stell'd
Thy beauty's form in table of my heart.
[…]
Now see what good turns eyes for eyes have done:
Mine eyes have drawn thy shape, and thine for me
Are windows to my breast, where-through the sun
Delights to peep, to gaze therein on thee;[…]"
William Shakespeare, Sonnet XXIV
DID YOU KNOW THAT THE BIG EYES MOVEMENT TRACE BACK TO XVIII CENTURY?
From Georgian Lover's Eye to Big eyes Portrait
A wonderful connection between eyes and love was created in the 18th century, when a Lover's Eye was first created.
In that enchanting era, a fascinating tradition emerged that captured the essence of sentimental affection in the most intimate and secret way.
It became customary for people to hide under their clothes the close-up of their lover's eye or a miniature portrait of their loved ones.
However, the fascination of this practice goes far beyond its mere existence.
Delving into this romantic custom, a fascinating detail comes to light: the meticulous techniques used for their creation by the skilled painters of the time. These masters possessed a remarkable ability to amplify emotions and increase the sentimental value of these miniature portraits. Their ingenious approach lay in the depiction of the eyes, which they made significantly larger than their actual size, giving these depictions an undeniable magnetism.
Portrait of a Woman's Right Eye. Courtesy of the Philadelphia Museum of Art. (Left)
Memorandum Case with a Portrait of a Women's Left Eye. Courtesy of the Philadelphia Museum of Art. (Right)
The deliberate choice to enlarge the eyes in these works of art was not a mere aesthetic preference, but rather a deliberate technique aimed at increasing the emotional impact of these portraits. By enlarging the eyes, painters enhanced the depth and intensity of the gazes, allowing the viewer to peer into the very soul of the subject. With each stroke of the brush, they were able to capture the very essence of love, desire and connection, elevating the sentimental value of these hidden treasures.
In that era, many of these intimate and precious objects were produced. They were given as gifts to loved ones, or sometimes made in memory of a deceased person.
They were usually placed in brooches or jewellery such as pendants or rings, so that they could always be carried with you.
These small objects are full of beauty, but also of mystery. Often, in fact, not only the subject whose eye was depicted, but also the artist who made it, are unknown.
They were popular in England, but for less than half a century, and today are part of large museum collections, including the Victoria and Albert Museum in London.
Their popularity is due to the fact that photography did not yet exist at the time, and people not only wanted to exchange pictures of themselves, but also parts of themselves.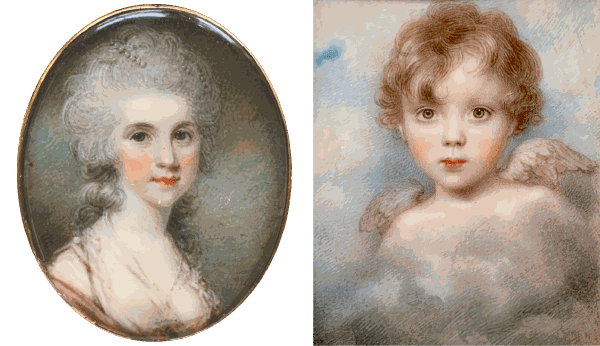 Samuel Shelley portrait of anonimous sitter ca 1785 (Left)
Andrew Plimer portrait f Selina Plimer ca. 1790 (Right)
The Lover's Eye, by representing only the eyes, focused attention on the gaze, a fundamental element at a time when social rules limited public interaction between people of the opposite sex.
Glances could therefore be exchanged more easily than words.
Different looks conveyed different messages and emotions, from love, to lust, to devotion, to melancholy. Each lover's glance was therefore its own, and was, at the time, only important to its owner, as he knew the person whose gaze was depicted.
For this reason, and then with the advent of photography, already around 1830, these precious objects stopped being produced, fading behind the power of photography, which could return a 'real' image of the beloved subject.
Lover's eyes, however, still arouse a profound fascination in us and in some great artists. Among them are two much-loved artists, different from each other, but close at times: Fatima Ronquillo and Alessandra Montesi.
Portrait of a Right Eye (mounted as a ring). Courtesy of the Philadelphia Museum of Art (Left)
Eye Miniature, early 19th century. © Victoria and Albert Museum, London. (Right)
LOVER'S EYE IN CONTEMPORARY ART:FROM FATIMA RONQUILLO TO ALESSANDRA MONTESI
Hand with Elizabeth Barrett Browning's "Sonnets from the Portuguese No.44", 6×8 inches, oil on aluminum panel, ©2021 Fatima Ronquillo
Fatima Ronquillo, a Filipino-American artist, puts the representation of the Lover's Eye at the centre in many of her works, always poetic and profound. We see large ringed hands or holding jewellery with the lover's eye, always meticulously crafted and evocative. We often find ribbons, scrolls, pearls, flowers, eyes that are always different, gazing deeply or lost in other worlds.
His works always manage to transport us to an almost dreamlike world, and above all to atmospheres reminiscent of a past we have never known, where emotions are at the centre.
Their depth also lies in their content, which often refers to mythical, religious and literary subjects.
The artist herself explains, with reference to the representation of the lover's eye in her works: "The surreal aspect of an isolated lover's eye attracts me tremendously-the idea of physical dismemberment which is symbolic of a removal or estrangement of a loved one. For anyone who has ever been in love or had a crush on someone, the photograph of the beloved is treasured. "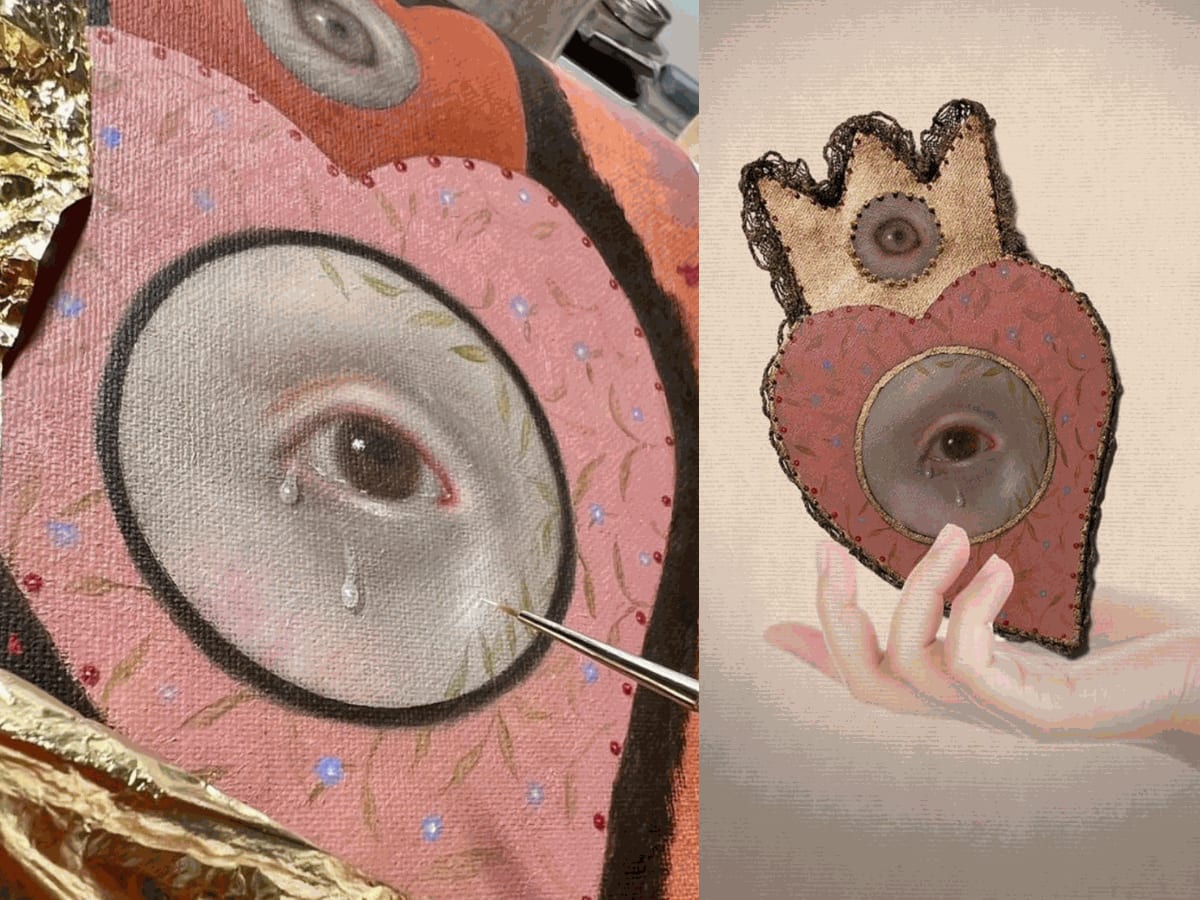 Lover Eye's by Alessandra Montesi, made with oil on canvas antique and gold leaf
But the charm of the lover's eyes can also be found in the delicate works of Alessandra Montesi, an Italian artist who creates her works on antique canvases, not meant to be painted, and then treats them with a long process in order to paint them with oil and gold leaf.
His works include sacred hearts with at their centre and in different parts of the painting one or more eyes, always different, with piercing or upturned gazes, almost in ecstasy.
Montesi, in fact, allows himself to be inspired not only by the eyes of familiar people, but also by ancient works, and this is why we can also find the eyes of some saints in his canvases.

The artist also draws inspiration from the work of great poets for his works. One of the poets who most inspired her is John Keats, a great English Romantic poet to whom she feels particularly attached.
Some of the works created by Montesi, and inspired by Keats's poetry, are jewellery to be worn just as they were in Victorian England. Each of her works is the result of in-depth cultural research and an exploration of visual perceptions rich in emotion and introspection.

From antiquity to the present day, therefore, the eyes have been a vehicle for profound and varied meanings, and just as they have inspired writers and artists in the past, they continue to do so to this day. Their fascination never ceases to bewitch and fascinate us for the different messages they can convey, and for the worlds they can evoke.
WHO ARE THE CON TEMPORARY ARTISTS THAT HAVE MADE THE EYE THEIR DISTINCTIVE SIGNATURE?
Boy and Poodle by Margaret Keane
The eye is a fundamental element, and perhaps the most central one, in the works of Atelier Fornasetti. From furnishing elements to ceramics and candles, Fornasetti's objects, between the fantastic and the surreal, have a unique, eccentric and timeless figurative language, and the eyes, in particular, are today, without a doubt, an icon.

We find the eyes as a key element also in the artworks of the timeless beauty of Margaret Keane.
Margaret Keane began creating her signature characters with big eyes already in the 1950s. This distinctive art style would later become her signature and an integral part of her successful career.
The artist is, above all, known for representing children and other subjects with very large and highly expressive eyes. With this type of representation, the artist found that she could convey a deep sense of emotion and capture the innocence and vulnerability of her characters.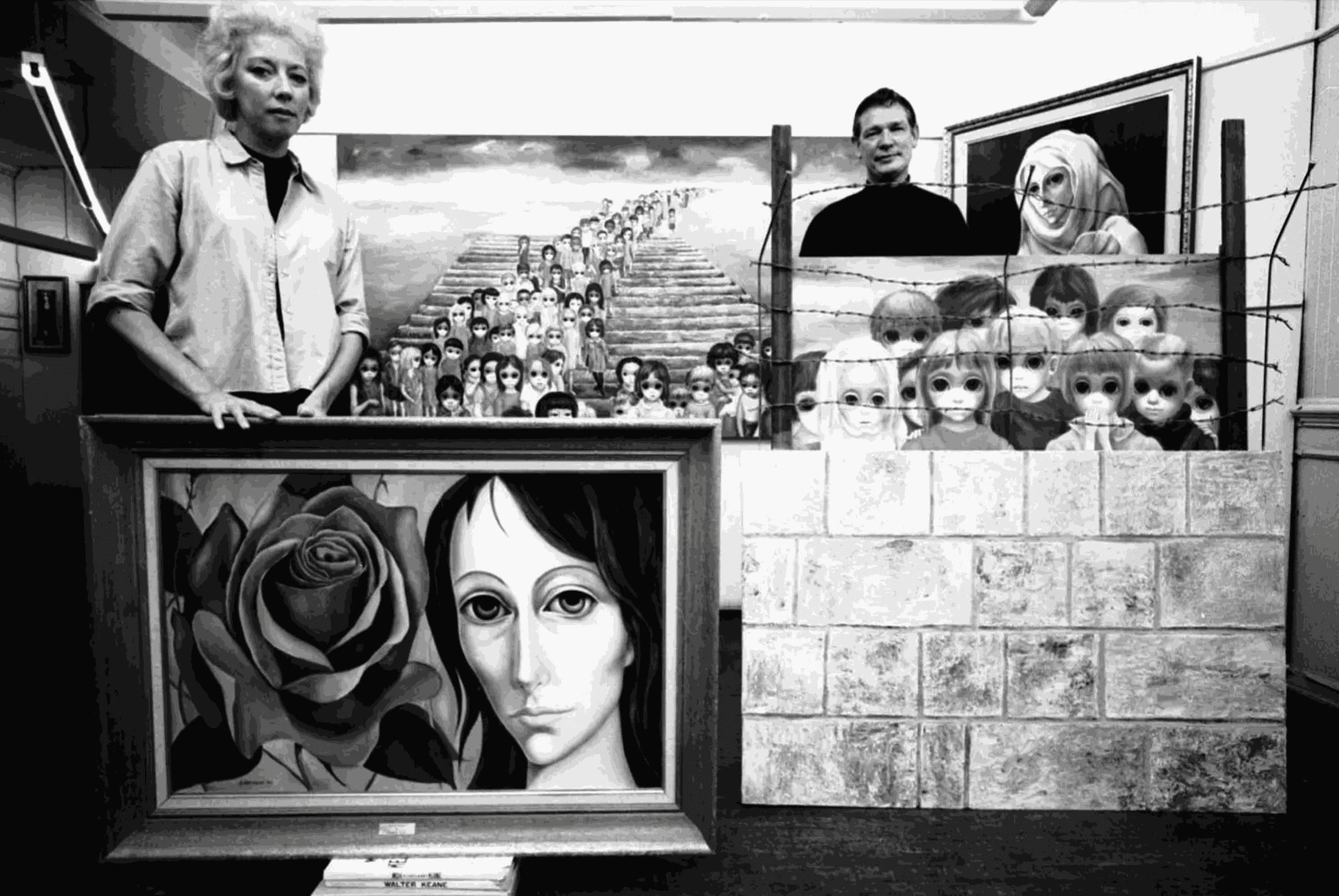 Margaret Kean and Walter Kean with a selectionof paintings in 1956
If you'd asked Margaret back then about her inspiration – which you never would have, of course – she would have shrugged and said she didn't know. The paintings just flowed out of her. But now, she says, she thinks she understands: "Those sad children were really my own deep feelings that I couldn't express in any other way. Their eyes were searching. Asking why. Why is there so much sadness? Why do we have to get sick and die? Why do people shoot each other?"
"Why is my husband so crazy?" I suggest. "Why did I get into this mess?" Margaret nods.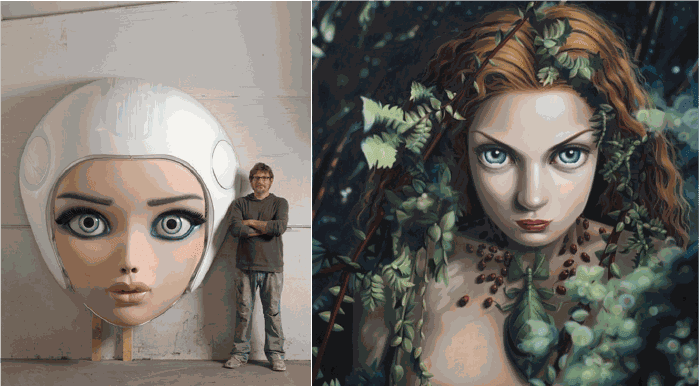 Colin Christian and Sas Christian
Sas and Colin Christian have been creating their big-eyed works since the early 2000s
Sas Christian, together with her husband Colin, is recognised as one of the prime movers of Pop Surrealism, a contemporary art movement that brings together elements of Pop Art and Surrealism. Their journey into the art world began in the early 2000s when they introduced their characteristic big eyes, which would become central to their work.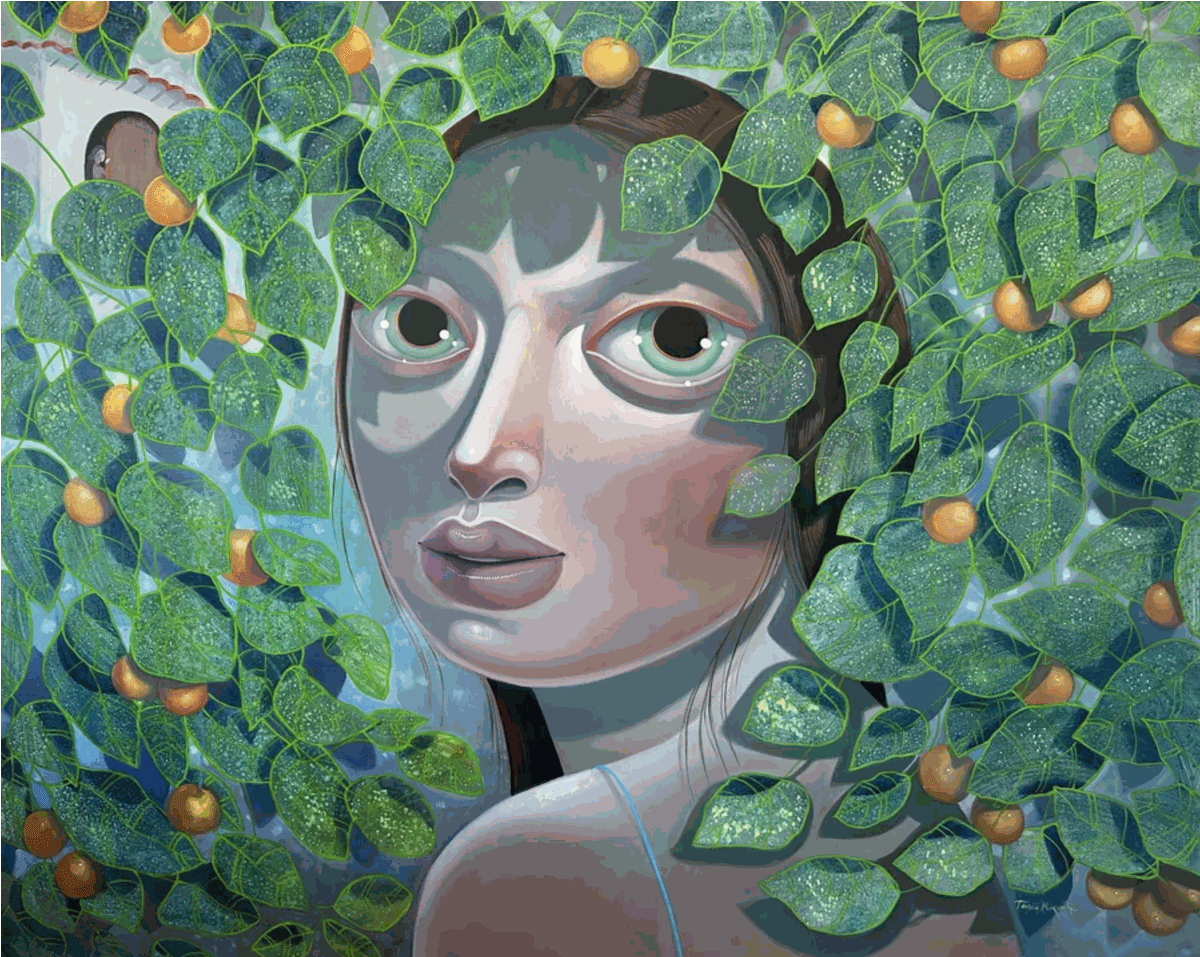 Tania Marmolejo, Encuentro Entre Los Naranjos (Encounter in the Organge Grove), 2023
Tania Marmolejo, an up-and-coming artist on the contemporary art scene, has recently attracted attention for her captivating artwork that draws inspiration from the Big Eyes motif. Based on the legacy of artists such as Margaret Keane and the pioneers of pop surrealism, Marmolejo has developed her own unique artistic style that explores the expressive potential of big eyes.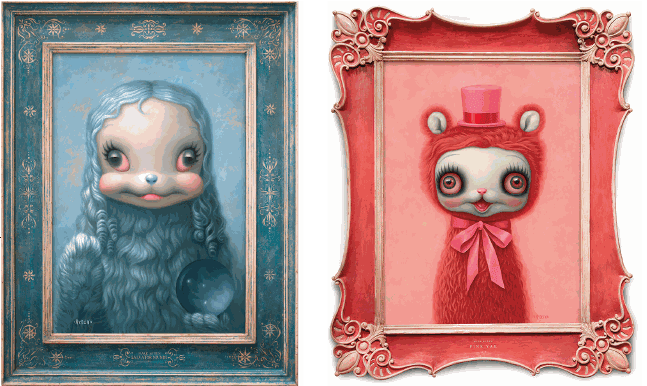 Pink Yak (#135) by Mark Ryden, 2018, Oil on panel and hand-carved wood frame (Right)
Salvator Mundi (#137) by Mark Ryden, 2018, oil on panel and hand-carved wood frame (Left)
Mark Ryden, one of the earliest exponents of Pop Surrealism, has continually explored the symbolism of the eye, exploring its multiple meanings and incorporating it in various ways into his work. From his earliest works to his most recent creations, Ryden has used the eye as a powerful symbol that conveys deep emotional meaning.

"The Apology" by Mark Ryden, Oil on board
"The Snow Yak" by Mark Ryden, Oil on board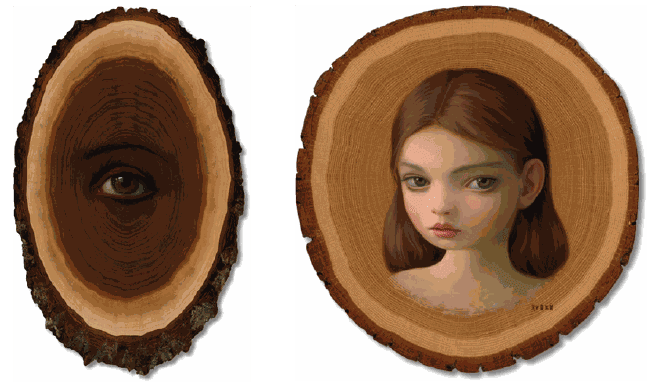 The Tree Show: Wood Nymphs, 2007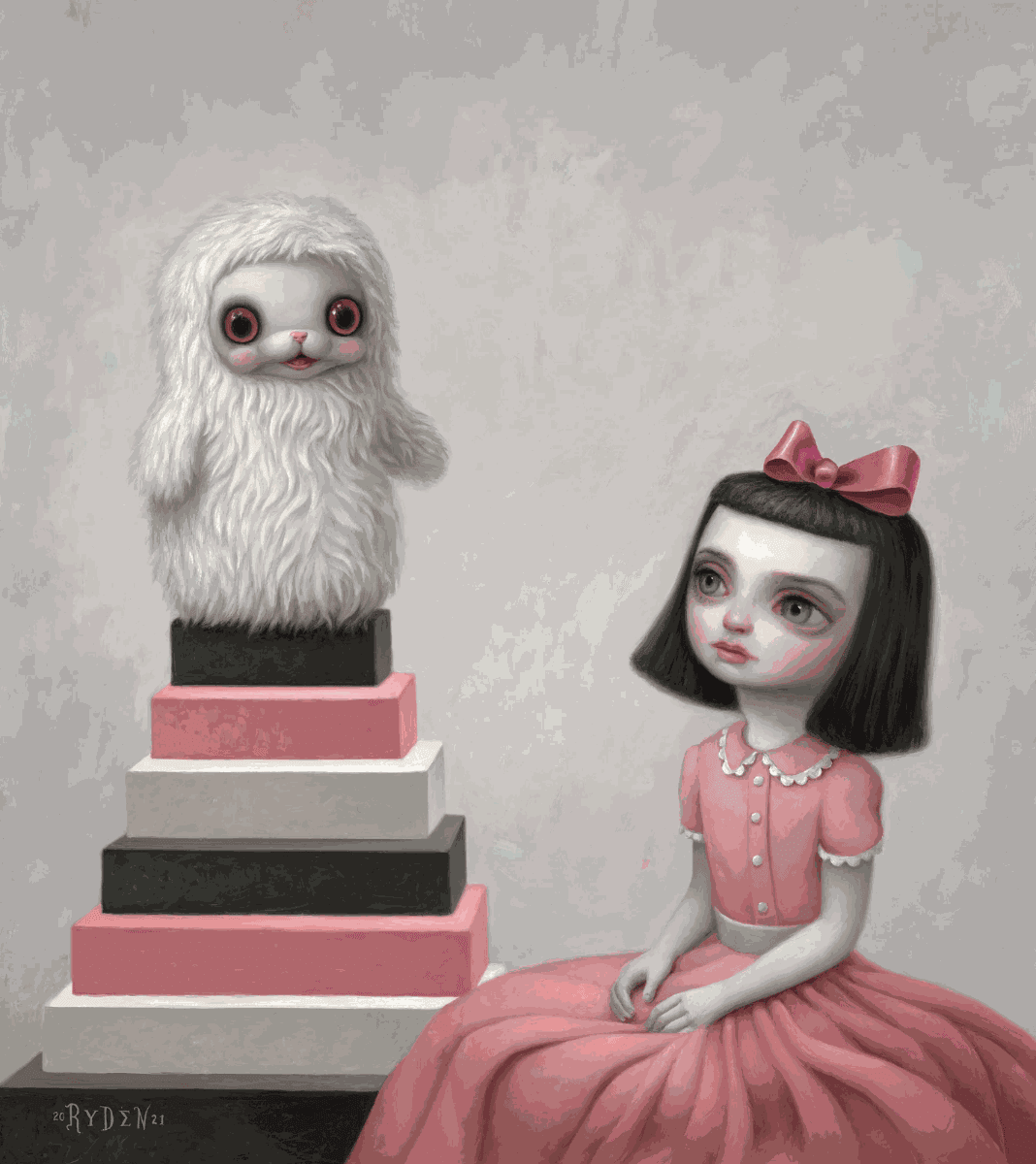 Yuki The Young Yak, Limited Edition Print
Limited Edition Lithograph with hand-crafted frame
50.8 x 45.72 cm, Edition of 500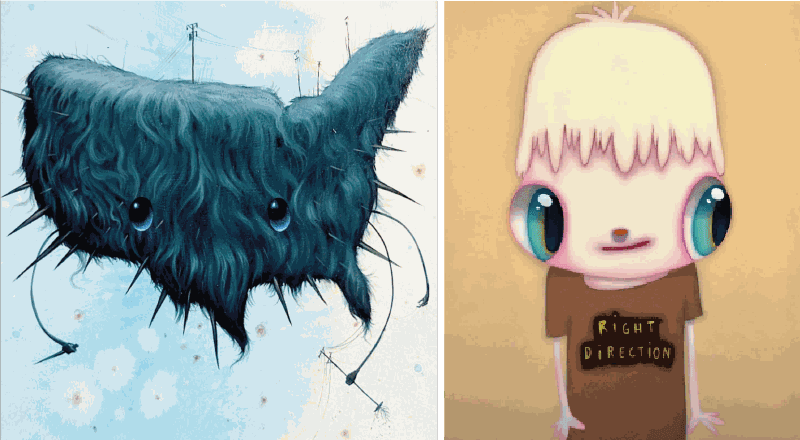 Right Direction by Javier Calleja, 2019, Acrylic on canvas (Right)
Turtle Go by Javier Calleja, Lithograph print on acid free paper (Left)
Jeff Soto is a highly acclaimed street artist whose hallmark in his works is the use of googly eyes. Similarly, the highly distinctive eyes in Javier Calleja's works have made him one of the most sought-after artists on the international scene.
Diren Lee, on the other hand, following in the footsteps of the famous artist Yoshitomo Nara and also inspired by the fascinating world of anime, created a distinctive artistic style, characterised by the marked use of large googly eyes.
THE EYE AS THE MIRROR OF THE SOUL:THE Evolution of Animism from Japanese Anime to Kawai Pop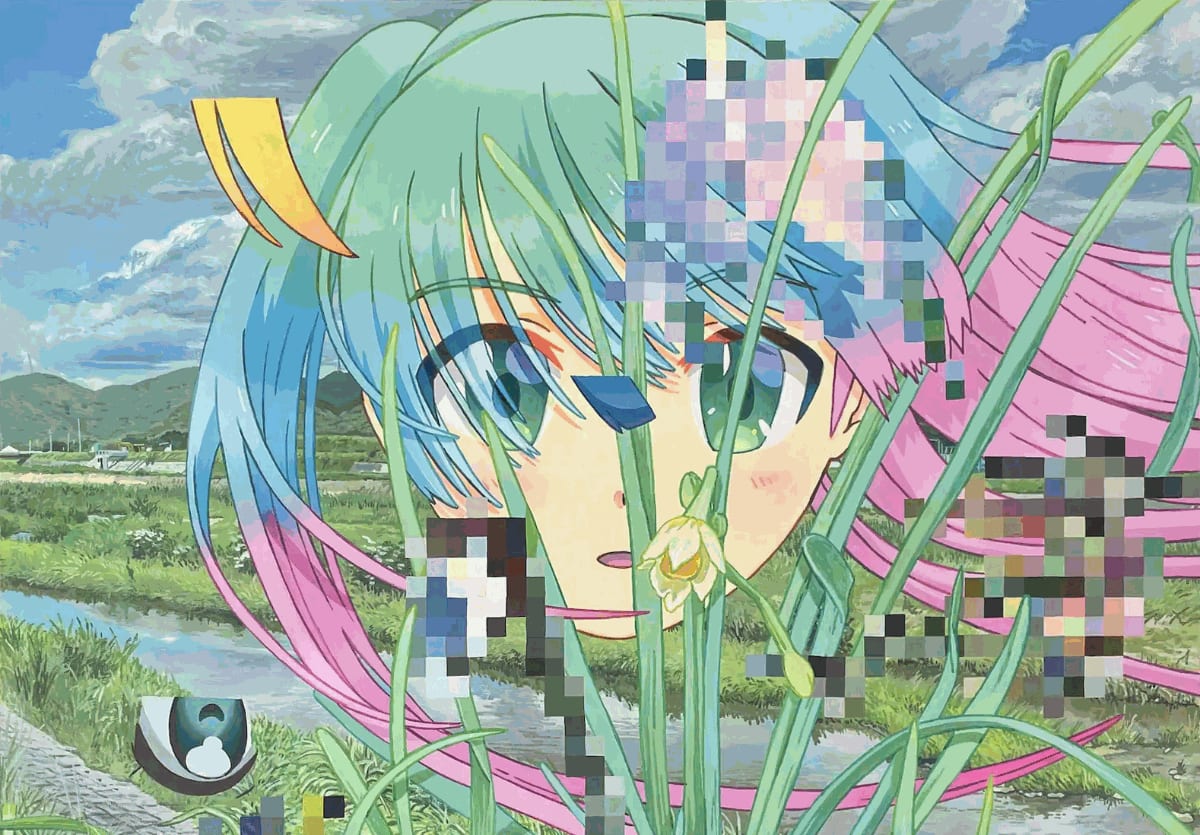 Hiromi
DCG in London will present for the first time in England the Japanese artist Hiromi, whose painting is strongly inspired by Anime symbolism. However, her paintings are characterised by a pixelation that gives them an original twist and a bizarre pictorial rendering, making her works absolutely unique.
Where do the large eyes always present in the depictions of Japanese anime and manga characters come from?
Although each artist has a different style when drawing these characters, there is no doubt that one recurring feature are the eyes, which are always very large.
The trend started around the middle of the 20th century with Osamu Tezuka, a famous Japanese anime and manga author, considered by many to be the 'god of manga', having pioneered modern manga and anime.
This artist was greatly influenced by Disney's depictions, and in particular by characters such as Donald Duck, Mickey Mouse and Betty Boop, whose eyes were drawn very large simply to exaggerate facial expressions.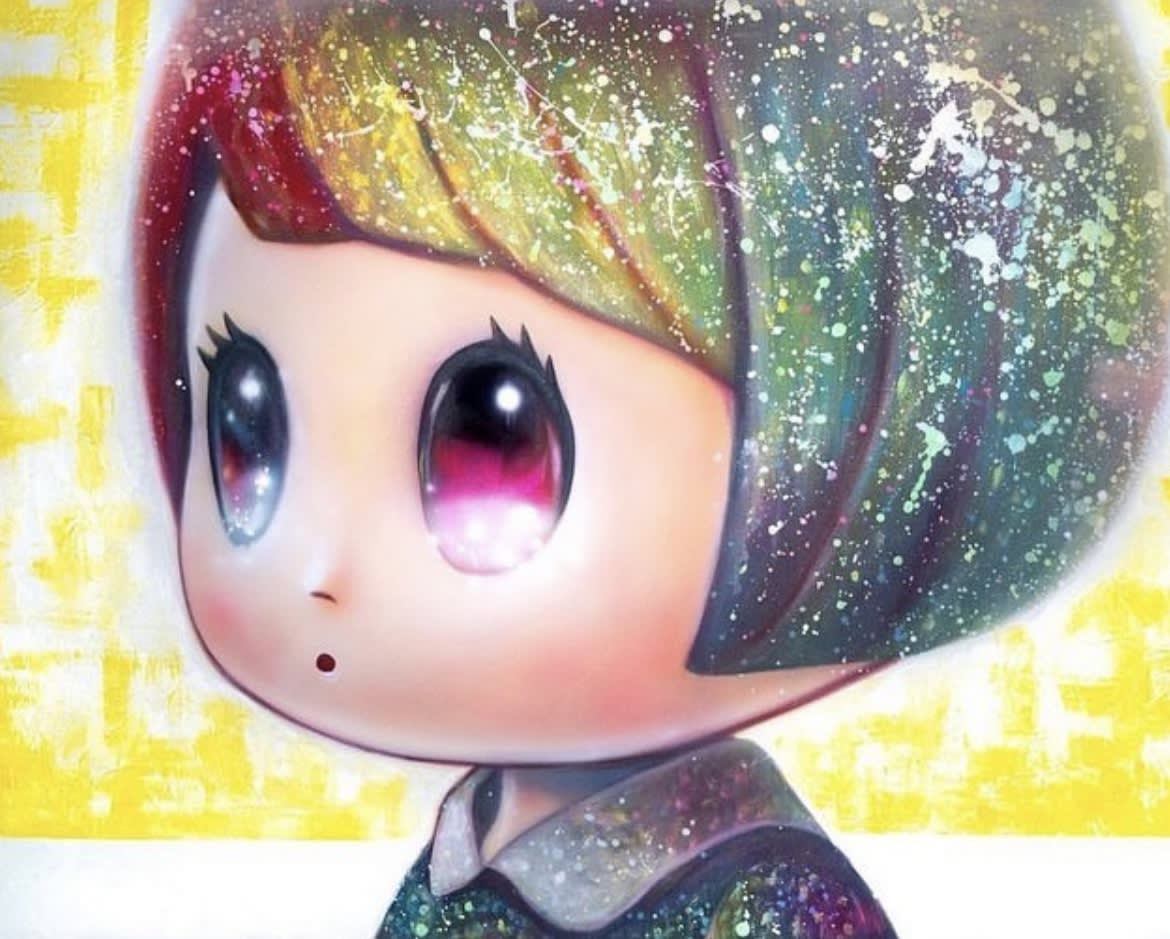 Hello There Hapico by Yosuke Ueno
In his latest solo exhibition at the Dorothy Circus Gallery, Yosuke Ueno once again enhanced the effect of his googly eyes in fluorescent colours and glassy rendering.
He then started to depict his characters with big eyes and since then many have followed in his footsteps, effectively creating a trend.
To this day, almost all character portrayals in manga and anime feature these exaggeratedly large eyes, which in fact also reflect a symbolic meaning: in fact, eyes are said to mirror the soul.
In the West, the eyes are thought to immediately reflect a person's emotions, fears and deepest self.
Very large eyes in anime therefore make it easier to portray these emotions and also make the characters more recognisable. This is also in line with traditional Japanese aesthetics, which appreciate the artist's ability to make viewers realistically feel stronger emotions.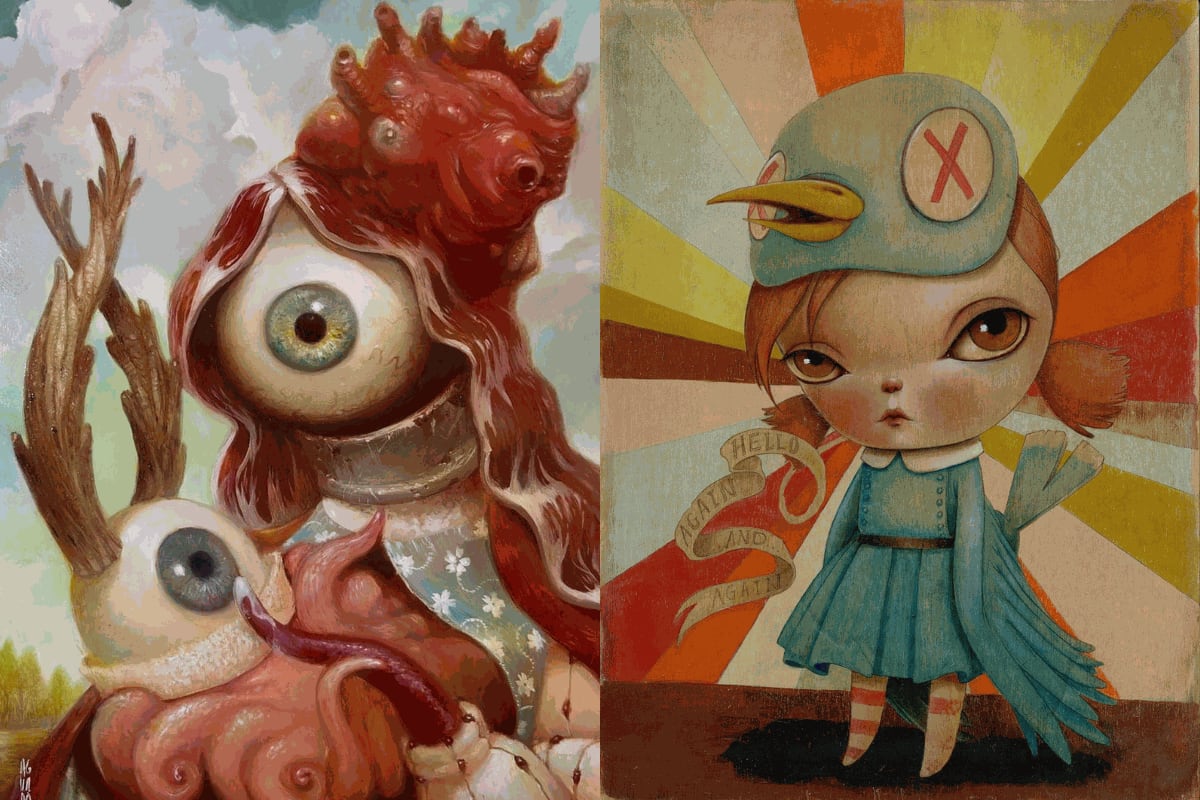 Impronta by Jesus Aguado and Hello Again and Again by Kathie Olivas
Also derived from anime and manga culture is the Kawaii Pop movement, also translated as Cutism, from Kawaii, meaning cute in Japanese.
Japanese kawaii culture entered the global lexicon of the art world in the early 2000s, but it is an aesthetic that has evolved over the decades.

The term cute, however, fails to fully capture the meaning of works that fall into this category.
They are often characterised by bright or pastel colours, huge-eyed characters, nostalgic atmospheres and anthropomorphised animals.

The term Kawaii has a wide semantic range, ranging from the idea of being sweet and adorable to conveying the idea of something pitiful and pathetic.
Often the protagonists of kawaii works have big heads and big eyes, attributes that suggest innocence. Kawaii works in fact present a contradictory nature. They are not just the representation of something cute.
First of all, childhood innocence is an important notion within kawaii culture; moreover, 'cuteness' as a product is traditionally aimed at those in the age between childhood and maturity.

Even the adult consumers of this type of art are in a sense embracing a certain youthful fantasy, the recovery of an earlier emotional state, an antidote to the dehumanising effects of a postmodern world.
Kawaii is by no means just a marketed idea for children, even if its consumers are mainly young people.

Kawaii characters are fundamentally metaphors: they are the embodiment of a lost innocence.The love of 'cuteness' in Kawaii works is an act of rebellion against tradition, conformity and the social obligations that come with adulthood. It is, therefore, a refusal to grow up.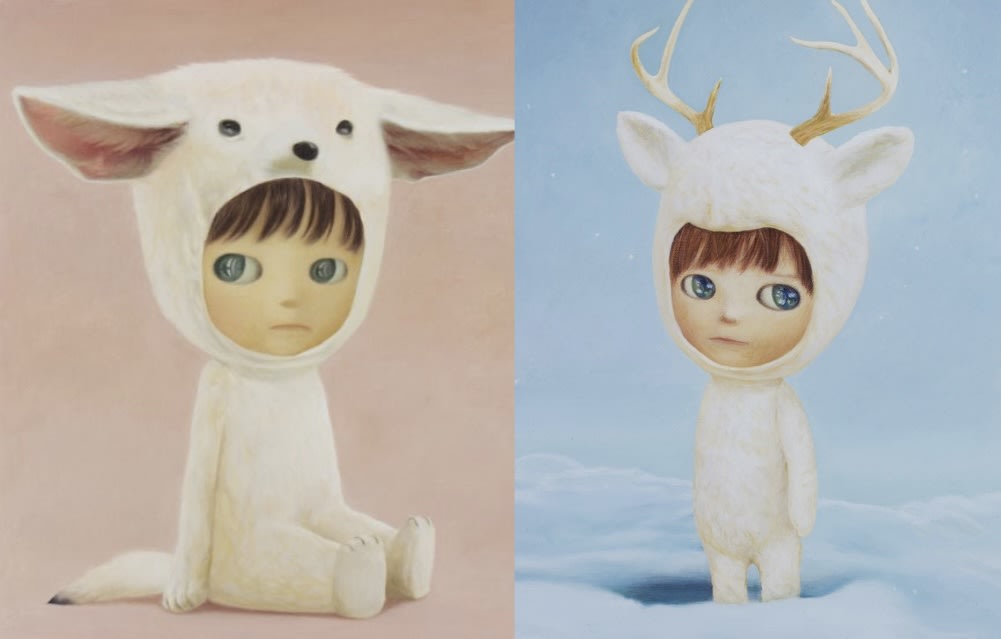 Mayuka Yamamoto - Conosciuta anche per i Googly Eyes.
It has to be said that perfection is the opposite of kawaii. In Kawaii Pop, the powerless are at the centre. The subjects of these works are often beings requiring special care and attention: children, pets, etc.
Often they are adorable biomorphs with the disarming characteristics of children, and so, looking at them, we imagine them to be helpless and innocent. In kawaii works, moreover, 'cuteness' can be used as a weapon and many kawaii characters, who appear as harmless or needy, are actually lovers of mayhem.

The distinctive characteristics of kawaii are diverse. Indeed, the works have a strong emphasis on the pitiful or pathetic, characters that aim to elicit sympathy from the viewer. Thus, the small deformed monsters or creatures depicted are particularly lovable to us because they actually arouse pity.

The importance of the kawaii movement is highlighted above all through the works of artists such as Yoshitomo Nara and Takashi Murakami, who create nostalgic revisitations of childhood fantasies or satirical works against today's hyper-consumerism.
Miss Margaret by Yoshitomo Nara
We also find the influence of Big Eyes in African art, and this is evident in the colourful works of Nigerian artist Samson Bakare, in which the protagonists are always depicted with large, expressive eyes looking straight at the viewer.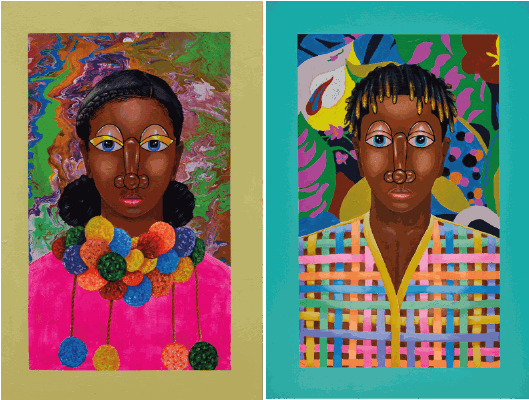 Cassandra in wonderland, 2023, Acrylic on canvas (Left)
To err is human, 2023, Acrylic on canvas (Right)
Are you a fan of the big eyes? You can't miss The Train of Wonder, An upcoming group exhibition with Hiromi, Esao Andrews, Fajar Amali, Valdo Manullang, Thomas Ascott, Lei Xiaohan, Wang Jin Bo, Rene Cuvos, Fandi Angga Saputra, e Gokcen Yuksek.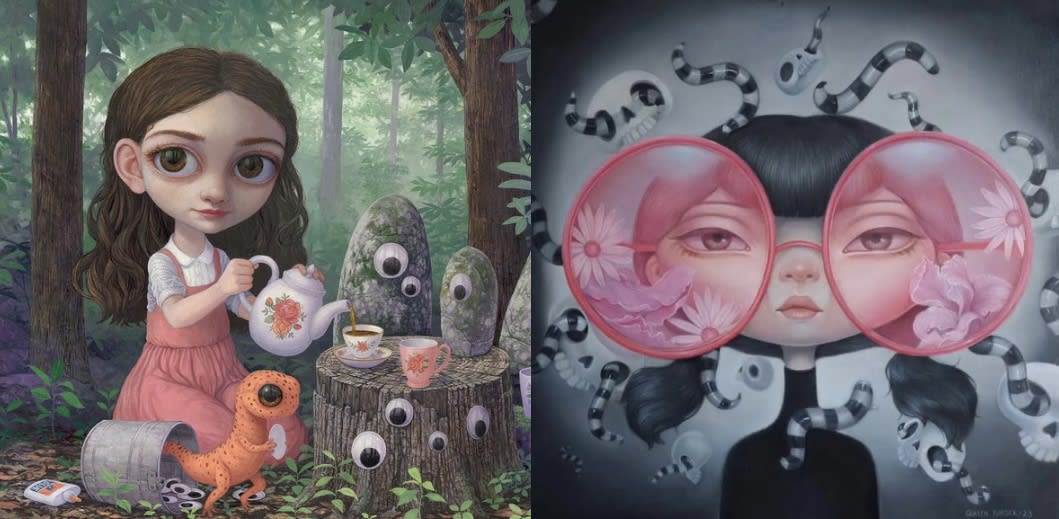 Thomas Ascott, representative artwork, new work coming soon (Left)
Gocken Yüksek, representative artwork, new work coming soon (Right)
From the avant-garde of the new Surrealist movement emerging from the United States to the fascinating world of Asian Kawaii Pop, and most recently labelled Cutism, this exhibition will present a wide range of artistic expressions that blend seamlessly together, like celestial voices harmonising in a choir. "The Train of Wonder" serves as a testimony to the boundless nature of contemporary art, where traditional boundaries vanish, and a collective vision of love and unity prevails.

With this exhibition, one can immerse oneself in a vibrant tapestry of emotions, stories and perspectives. From dreamlike landscapes to whimsical characters, the artworks in this group show will invite you to explore the depths of your imagination and contemplate the profound messages they contain.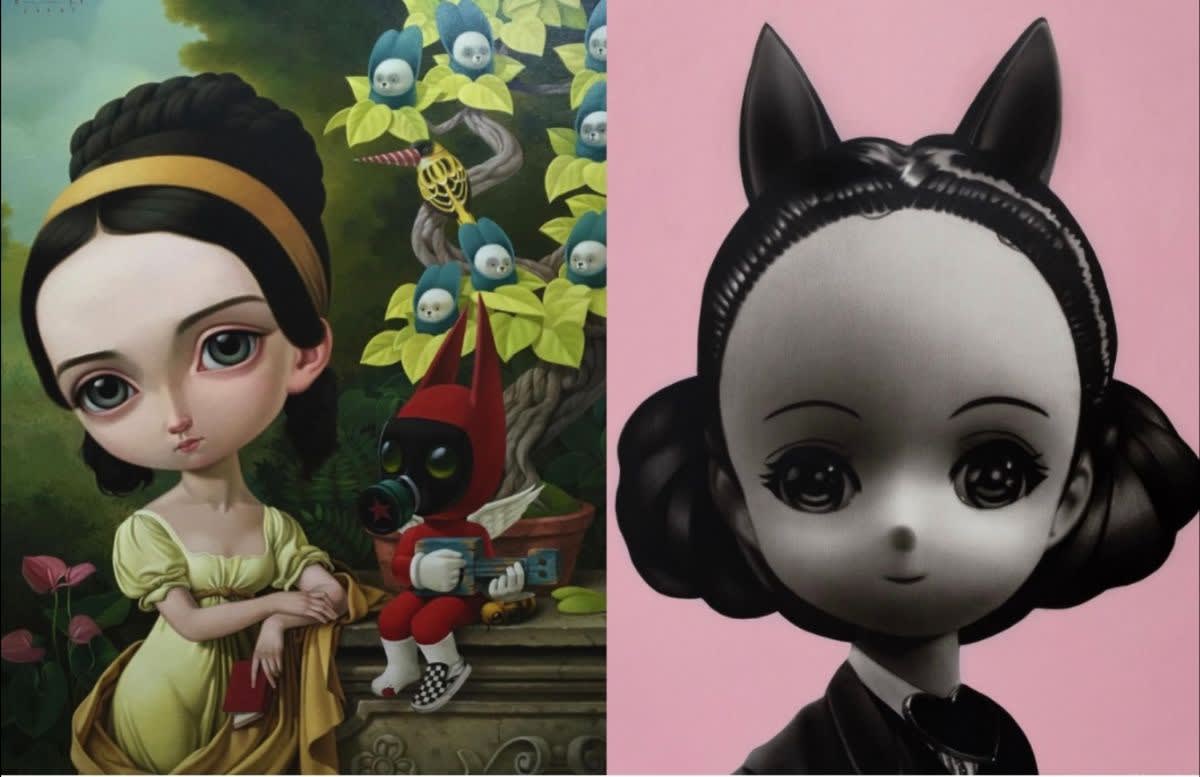 Rene Cuvos, representative artwork, new work coming soon (Left)
Valdo Manullang, representative artwork, new work coming soon (Right)